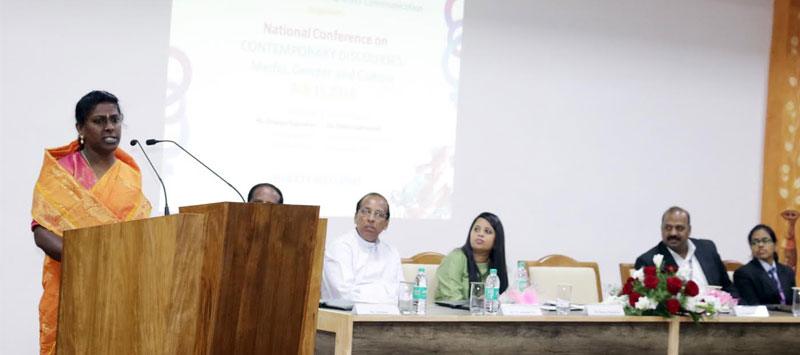 Redefining Roles and Shattering Stereotypes
Nisha Rebecca Eapen
IV sem BA JPCS
Conferences and guest lectures are a regular part of college life. I for one, have always looked forward to them; simply because I thoroughly enjoy listening to the incredible chief guests that we so often have. I have rarely been let down by their speeches that have provoked me toward a better thinking. Yet, despite my already pleasing memories of several such Guest addresses, few memories would compare to that of my experience at the National Conference on Contemporary Discourses: Media Gender and Culture that took place on February 16, 2018 at Kristu Jayanti College.
This Conference was organized by the Department of Journalism and Mass Communication and was focused on the changing trends in Media, Gender and Culture. Being a Journalism student myself, I believed that I had a good enough understanding about the general media stereotypes and the acceptable ways of dealing with them. But the addresses put forward by the Chief Guest and the Guest of Honor for that day, seemed to turn any form of passive acceptance I might have had, while setting in sight a hope for better media practices.
Ms. Dhanya Rajendran, Managing Editor of 'The News Minute' and the Chief Guest for the conference, spoke about the changing roles of women in media. She highlighted on an interesting aspect: I.e. an increase in the number of women journalists, and stressed the need for more women in decisive roles within media organizations. She also clearly mentioned that journalists should be hired on the basis of the skills in gathering and reporting the truth. And certainly not based on their gender.
She shared her personal journey in the field which was indeed eye-opening and stirring. She encouraged the future journalists in the room to always respect privacy while they go the extra mile to discover the back story of the news that makes headlines. It was clear that Ms. Dhanya Rajendran was determined to pioneer a path of honest and sensitive reporting despite the standing trends of immediate yet unsubstantiated news that fills the newspapers and news blogs around us.
The Guest of Honor for the day was Dr. Akkai Padmashali, leading Transgender Social Activist and Founder of Ondende. She was no less in passion and her commitment for positive change. Dr. Padmashali seemed to shift the entire energy of the room with her quirky sense of humor and through her straight forward manner in discussing issues that have been considered taboo by most sections of society. She spoke about misconceptions about gender identity with heart-rending examples from her personal experiences.
Dr. Padmashali spoke of her beliefs with unabashed sincerity. "There are some who choose to practice journalism of social inclusion and some who choose journalism of segregation. Whatever you choose, you will be doing injustice to your profession if you work without depth and value for the truth," said Dr. Akkai which highlighted the foundational truth of her message. Just as she had done her entire life, she exhorted her listeners to lend their voice to the voiceless and champion the cry of the side-lined. She spoke about the power of media in determining society's stereotypes, and how the time has come to stand against these preconceived notions that tend to portray women, transgender and sexual minorities who are often portrayed in a bad light. It is safe to say that everyone who attended was moved and tremendously inspired, not just by her words but her life story, unrelenting courage and resilience.
We as audience took back more that day than just theoretical knowledge and new information. Our minds and hearts were filled with a new passion to seek out the truth, no matter how uncomfortable it might make some people. I strongly suggest my fellow Jayantians to take advantage of the opportunities we have as Jayantians and to listen to such world-changers. You will never know how each story will impact and change you.