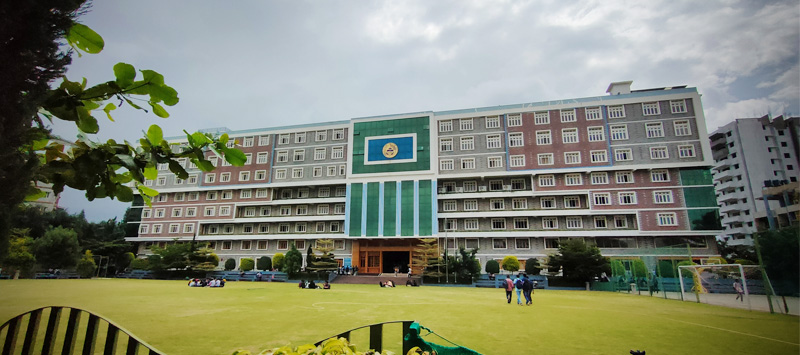 I am a Jayantian
Shruthy Mol - 1st Year MA JMC

Bangalore, the Garden City of India, always induced a kind of feeling and desire in me. It was one of my dreams to be a 'Bangalorean' and enjoy the city life, without leaving each and every corner of the city. With that enthusiasm I completed my graduation from Mangalore and reached Bangalore with a big bucket list of wishes that I was yearning for. The moment I stepped into Bangalore, I felt that Bangalore is not only the Garden City of India, but it is also the most crowded and traffic city of India. The early morning traffic made me feel like the whole world was busy at that moment and all the people in Bangalore are running behind their work. Moreover, I felt like all those people who are running are in search of something, and seems like the people in this city are in search of ultimate peace.
Despite having these thoughts running constantly in my mind, on a fine day, I stepped into one of the most beautiful spots in K. Narayanapura, Bangalore . It is the best spot to enjoy nature, to get indulged in the beauty of different seasons, to get pure and clear oxygen, to find the combinations of different varieties of talents in both field of arts and sports from the different parts of India. It is a spot where you can find people who are diverse in culture, tradition, values and language coming together. It is also the finest place where you can find a deepest bond between the teachers and the students and mostly you find the exact meaning of the word "peace." This word isn't enough to describe the beauty of that place because it's neither a house; nor a hostel and a park. It is certainly not any big IT company. It's a college. It is a college with the vision and mission- Light and Prosperity; a college with ecological sustainability and with a brighter and prosperous future for its students. The college is advancing towards social developments as it is a place where one can find great communication between people with diverse culture.
I always admire the way the departments conduct various types of orientations and lecture series with eminent speakers from different parts of the world. This shows the social connection between the college, other communities and various organizations from different parts of the world. I always admire the code of conduct the college has for its students. I always admire the infrastructures and other facilities provided by the management for the growth of the students.
The college grabs the attention of whole Karnataka with its accomplishments. In 2021, the college was re-accredited with A++ by NAAC and is recognised by the UGC, under the category of 2(f) and 12(b). Kristu Jayanti College is one of the best colleges in India and one of the five best colleges in Karnataka.
Yes, this is a proud moment for me to be a part of this wonderful journey as a student of this beautiful and esteemed college and I can proudly say to my fellow companions that "I am a Jayantian!''