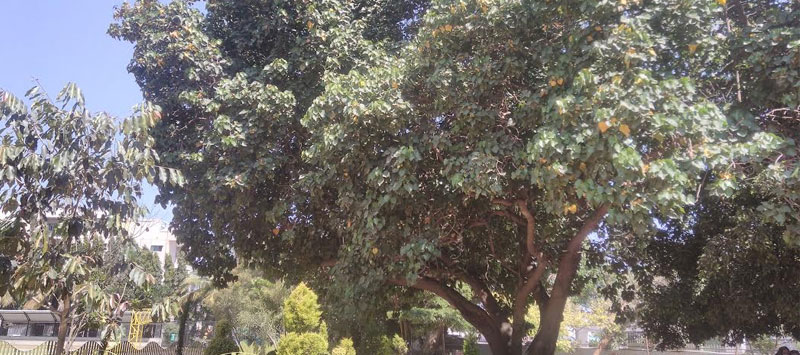 Wisdom Tree: The Untold Story of Jayantians Pal
Olevia K Sunny
II MA JMC
The college days would undoubtedly have the sweetness and love of a true friend; a friend who would have enlightened our lives with his or her presence. But stepping into the busy world after graduating would certainly reduce the chances to maintain such relations. And, this would gradually make us feel to go back to the college to relive and remember those beautiful days with friends around, which we had spent. What if we have a friend who was with us then and who will be there in the college campus whenever we visit? Well, this is the story of a group of lucky friends who have got their own good old buddies waiting for them each time they visit Kristu Jayanti College
And this is the most cherished friend of alumina and students of Kristu Jayanti is none other than a beautiful Pipal tree which is cared since generations, a tree which has been a true friend of many and the one which had enlightened several generations.
It's not just a mere tree for anyone who visits the campus. But its story would make us realize that how it is missed by the students who have completed their studies. This is a place of peace and warmth to all the Jayantians. It's also a wonderful host of shade for those who visit her. According to Anju sabu, an alumnus of Kristu Jayanti college "wisdom tree is one of the most favourite spots of alumina on campus as there are many memories to be cherished, Right from the keen group preparations for the exams to the leisure times spent on dreaming big about the future during those days in the campus. In reality a friend with whom the beautiful college days were spent along." And for the students who are studying now in the campus, the wisdom tree is a friend with whom they would like to build memories to be cherished in the future. Most of their discussions and celebrations within the campus happen under the shade of this friend.
Undoubtedly, it is an asset to the college and a wonderful example set by management to the outside world by maintaining its surrounding. It is a better place to bond with nature for generations. Moreover, this Pipal tree is a pal for those who approach her with a guaranteed enlightenment to a bright future.