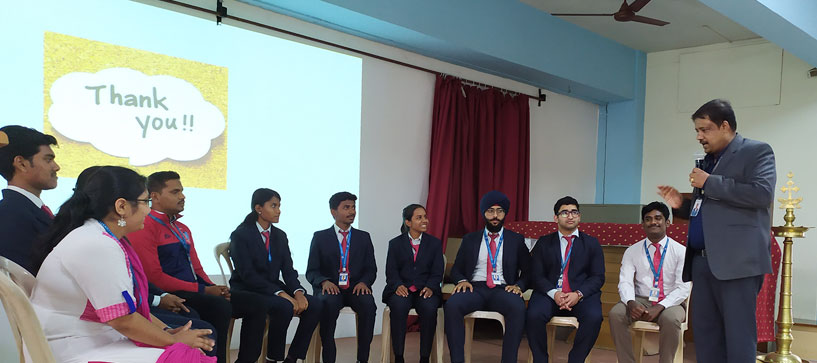 Placement Process
The Centre for Employability and Corporate Relations (CECR) has a process and set guidelines to make students more serious about the Final Placement Initiatives. Every student looking for final placements has to submit a Need Analysis Questionnaire, a copy of their profile and should compulsorily appear & clear the Aptitude Test paper of CECR to make them eligible for Final Placements.
The center (CECR) helps students in career planning through career counseling wherein they gather information about themselves in terms of their interests, aptitudes and abilities so that they can choose their careers more effectively. The Centre allows individuals to explore the world of employment and helps them to move from a general occupation direction to a specific one. Through the Career Plan form, CECR will know the exact headcount looking for final placements, going for higher studies (India & Abroad) and planning to become entrepreneurs. The Career Plan exercise will be followed by separate training programs for students opting for Final Placements, higher studies and planning to start up their own business.
The selection process by the company usually starts with a pre-placement talk in which the organization gives the students insight into the company profile, job profile, CTC etc. followed by the actual selection process of written test/group discussion/interview etc.
Aptitude Training: These classes refresh the fundamental areas of mathematics and logic of the students and cover areas like – Quantitative ability, Logical reasoning, Puzzles and Verbal ability.
Personality Development Classes: These classes are conducted in parallel with the aptitude sessions and provide rigorous training in the soft skills area.
Technical Training Sessions: As a part of our training efforts, we conduct surveys from time to time among Corporate to understand the technological up gradations taking place. After a comprehensive survey, we figure out the most appropriate technologies and provide the required training based on these inputs.
English Language improvement sessions are conducted for all the UG students. Pre placement training programs such as mock Group Discussions, mock interviews are conducted by industry professionals in the college campus.