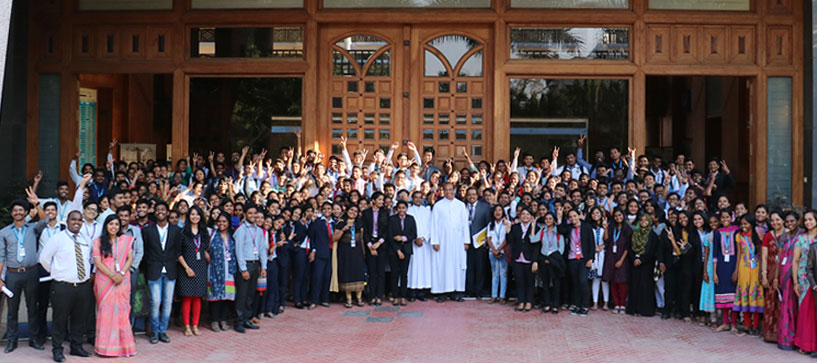 Our Placements
Greetings from Center for Employability and Corporate Relations (CECR)!
Global Competitive environment today requires resilient individuals who are dynamic in their approach, humble in their attitude, proactive in their thought and committed in their purpose. Right since its inception, Kristu Jayanti College has endeavored to inculcate a mental quality infrastructure in each student. Based on the four pillars of education - Knowledge, Skills, Values and Attitude, the Jayantian Education system is geared towards holistic change.
Effectiveness of education is proved by the Job Placements offered to the students. Every year more than 70 corporate organizations visit our campus to recruit prospective employees from various streams of study at Post Graduate and Graduate Levels. The holistic educational curriculum and training to imbibe organizing ability, communication skills and team spirit have made the students enterprising to meet the demands of modern business.
Our students work in companies such as Morgan Stanley, KPMG, EY, Grant Thornton, Asian Paints, LDRA, Federal Bank, South Indian Bank, ITC, Northern Trust, Byjus, City Union Bank, Accenture, Amazon, Coca Cola, Cognizant, Deloitte, Oracle, Salesforce, Wells Fargo, Oath Inc, Data Semantics, Johnson & Johnson, Google, HSBC, McKinsey & Co and PwC.
We assure you that our students have the strategic perspective, business knowledge, and excellent management skills to deliver strong performance while making a positive impact on society and the environment.
The overwhelming feedback from our recruiters regarding the performance of the earlier batches is an assurance of their trust in our students who uphold the core values of academic integrity which include honesty, trust, commitment, fairness, respect and responsibility.
It would be an honour to have your esteemed organization participate in our placement programme.
We welcome you to our campus for GATE 2020-21.