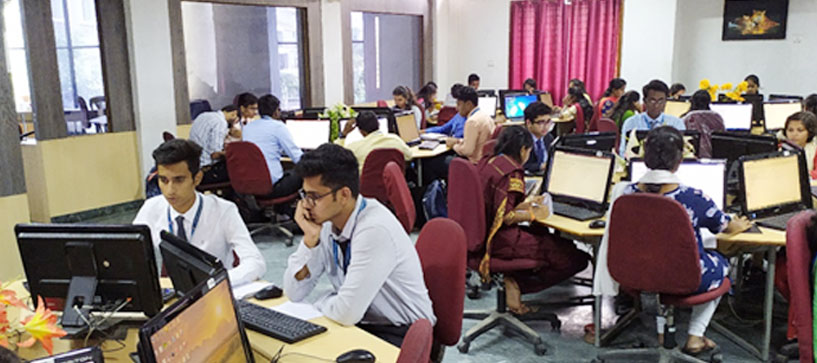 Placement Initiatives @ KJC
School of Management believes in transforming young talents who can match the requirements of the recruiters. The various Placement initiatives undertaken are described below
Summer Internship Program
The 6 week summer internship programme is carried out by the MBA students at the end of Second Semester. Every year SIP starts in the month of July. The students learn about the Industry, Company, and Competitors and do a SWOT analysis. This aims to widen the students' perspective by providing an exposure to real life organizations and environmental situations. The recruiters can contact the Talent Transformation Team, Centre for Employment and Corporate Relations during the month of January to finalize the date for SIP Placements.
The Final Project
As a compulsory part of curriculum, MBA students can do final project with an organization or they can do a dissertation. Recruiters contact the CECR in the month of January for the selection process.
Campus Recruitment Program
The campus recruitment season starts during the month of October. Recruiters send the Placement Response Form to CECR for finalizing the dates for Final Placements. Every year companies from diverse sectors visit the Business School for Campus Hiring. Over the years, the institute has consistently maintained a hundred percent recruitment record with students exceeding the expectations of recruiters.
Placements
Students Placed 2022-23
Ms. Harshita Kumari


Accenture

Ms. Rashmitha


Accenture

Mr. Sony Mathew Sam


Accenture

Mr. Zuhair Aziz


Deloitte Audit

Mr. Tanishq


Deloitte Audit

Ms. Bhavya A A


Deloitte Audit

Mr. Aaron Joseph Thomas


Deloitte Audit

Ms. Jewel Sara Jayan


Deloitte Audit

Ms. Nafiya Khader


Deloitte Audit

Mr. Aaron Francis Xavier


Deloitte Audit

Mr. Jaise Mathew George


Deloitte Audit

Mr. Akshai Radhakrishnan


Deloitte Audit

Ms. Dona Binu


Deloitte US Tax

Mr. Melvin Thomas Kurien


Deloitte US Tax

Ms. Merin Mathew


Deloitte US Tax

Ms. Rini Mary Biju


Deloitte US Tax

Ms. Sandraas Susan John


Deloitte US Tax

Ms. Sanghamitra Bhardhan Roy


Deloitte US Tax

Ms. Srilalitha


Deloitte US Tax

Mr. Ayush Raj


EY-Analytics

Ms. Janice John


EY-Analytics

Mr. Koushik Kalyan Sahoo


EY-Analytics

Mr. Prajwal S S


EY-Analytics

Mr. Siddhartha Sankar Kar Chowdhur


EY-Analytics

Ms. Snehal Sharan


EY-Analytics

Mr. Syed Saqib


EY-Analytics

Ms. Aarushi Ambady


EY-Audit

Ms. Angela Erin


EY-Audit

Mr. Ashish


EY-Audit

Mr. Hari Shankar T


EY-Audit

Ms. Jennifer Priyanka S


EY-Audit

Mr. Jomet Jesline Jaison


EY-Audit

Ms. Nicole Vilenuo Simmons


EY-Audit

Mr. Parthiv P M


EY-Audit

Ms. Rose P Saju


EY-Audit

Ms. Sneha Yohannan


EY-Audit

Mr. Vishnu Prasad D K


EY-Audit

Ms. Andriya Vilayil Biju


EY-GDS

Ms. Preeti Bisht


EY-GDS

Ms. Rithika Maria Paul


EY-GDS

Ms. Sanika Sajan


EY-GDS

Ms. Aishwarya J


EY-Tax

Mr. Amithab Murichandiyil


EY-Tax

Ms. Anna David


EY-Tax

Ms. Anusree S


EY-Tax

Ms. Aparna Raj


EY-Tax

Ms. Arathi Krishna S


EY-Tax

Mr. Arun Babu


EY-Tax

Ms. Avi Vijay


EY-Tax

Ms. Ayushi Singh


EY-Tax

Mr. Ayush Kumar


EY-Tax

Mr. Brian Philip Abraham


EY-Tax

Mr. Chetanya Anand


EY-Tax

Ms. Dikshitha S


EY-Tax

Ms. Disha Sinha


EY-Tax

Ms. Diya Bhattacharyya


EY-Tax

Ms. Gayathri R


EY-Tax

Ms. Harshitha N Ravoor


EY-Tax

Ms. Ishma Sakina Fernandes


EY-Tax

Mr. Janmejay Sidhant


EY-Tax

Mr. Koushik K


EY-Tax

Mr. Manu Mohan


EY-Tax

Mr. Marshal M


EY-Tax

Mr. Niraj Kumar Pahwa


EY-Tax

Ms. Poorva Singh


EY-Tax

Mr. Praneeth K


EY-Tax

Mr. Rishikesh H V


EY-Tax

Mr. Rushab S


EY-Tax

Mr. Shivam Mahawar


EY-Tax

Ms. Shreya R Kanchan


EY-Tax

Ms. Simran Kaur Bhullar


EY-Tax

Ms. Snehavalli R


EY-Tax

Ms. Sujasca Dias


EY-Tax

Ms. Sunayana Nair A


EY-Tax

Ms. Timya S Abraham


EY-Tax

Mr. Vikram E


EY-Tax

Mr. Yavkrit


EY-Tax

Mr. Amal MT


Federal Bank

Ms. Shambhavi Aastha


Federal Bank

Mr. Vibin Peter


Federal Bank

Mr. Adithya Raj


ICICI Bank

Mr. Akash Anand


ICICI Bank

Mr. Aman Sharma


ICICI Bank

Ms. Ankitha Suresh


ICICI Bank

Ms. Ann Mariya Sony


ICICI Bank

Mr. Aradh ER


ICICI Bank

Mr. Aravind Suresh Bhati


ICICI Bank

Ms. Arshdeep Kaur


ICICI Bank

Mr. Ashish A


ICICI Bank

Mr. Ashutosh Sinha


ICICI Bank

Ms. Banu Priya P


ICICI Bank

Ms. Blessy Soundarya A


ICICI Bank

Ms. Christy Joseph


ICICI Bank

Ms. Deepti Mishra


ICICI Bank

Mr. Dhiraj Ramnath


ICICI Bank

Ms. Gautami Kashyap Gogoi


ICICI Bank

Ms. Gayathri Rajan


ICICI Bank

Mr. Gulshan Kumar A


ICICI Bank

Mr. Harish Rathinam SK


ICICI Bank

Ms. Isha Dhingra


ICICI Bank

Mr. Jerome P Rajan


ICICI Bank

Mr. Joel Tomy


ICICI Bank

Ms. Khushi Prajapathi


ICICI Bank

Mr. Kishore Balaji


ICICI Bank

Ms. Leela Lakshmi A


ICICI Bank

Ms. Maria Sara Paul


ICICI Bank

Ms. Merlin John C


ICICI Bank

Mr. Mohammed Salim


ICICI Bank

Mr. Muhammed Naveed Ansari


ICICI Bank

Ms. Naina Reddy B


ICICI Bank

Ms. Nandana P


ICICI Bank

Ms. Pooja D


ICICI Bank

Mr. Prajwal M


ICICI Bank

Mr. Pranav T


ICICI Bank

Ms. Priyanka S


ICICI Bank

Ms. Rangala Kirty Reddy


ICICI Bank

Ms. Ritul Dwivedi


ICICI Bank

Ms. Riza Asfeen


ICICI Bank

Ms. Samridhi Prakash


ICICI Bank

Mr. Sebastian Michael


ICICI Bank

Ms. Sharon Hepsibah


ICICI Bank

Mr. Sharon John Jacob


ICICI Bank

Ms. Shivangi Yadav


ICICI Bank

Mr. Tanish Malik


ICICI Bank

Mr. Vignesh K


ICICI Bank

Ms. Vinitha K


ICICI Bank

Mr. Vishal Choudhary


ICICI Bank

Mr. Vishnu UK


ICICI Bank

Mr. Abhilash Augusthy


JP Morgan

Ms. Abhina Mol


JP Morgan

Ms. Adhika Shaheed


JP Morgan

Ms. Angel-Mary-Chacko


JP Morgan

Ms. Devu Sreelal


JP Morgan

Ms. Himaja P


JP Morgan

Mr. Jaykant Boddeti


JP Morgan

Ms. Nithya Das PV


JP Morgan

Ms. Parvathipriya R


JP Morgan

Ms. Prachi Prabina Maharana


JP Morgan

Ms. Rakshitha KS


JP Morgan

Mr. Raut Vipin Chandrashekar


JP Morgan

Mr. Revanth S


JP Morgan

Ms. Sneha S


JP Morgan

Ms. Sowmya Reddy V


JP Morgan

Ms. Sridhari C


JP Morgan

Ms. Aan Maria


KPMG Audit

Mr. Addle Jacob Benoy


KPMG Audit

Mr. Adwaith Raj


KPMG Audit

Mr. Akhil Chacko


KPMG Audit

Ms. Amrutha C Arun


KPMG Audit

Mr. Antony Thoppil


KPMG Audit

Ms. Archana Singh


KPMG Audit

Ms. Arundhathy Sankar


KPMG Audit

Ms. Aswathy


KPMG Audit

Mr. Hrisheek Monnappa PJ


KPMG Audit

Mr. Jatin Saji


KPMG Audit

Mr. Manjunath D


KPMG Audit

Mr. Mohammed Shaheen


KPMG Audit

Mr. Monisha M


KPMG Audit

Mr. Muhammad Roshan Shamnad


KPMG Audit

Mr. Nithin Varghese Mathew


KPMG Audit

Ms. Pooja V


KPMG Audit

Mr. Pratyush Mishra


KPMG Audit

Mr. Sathya Anant Kumar Rana


KPMG Audit

Ms. Manasi


KPMG Audit

Mr. Vikranth Ganesh


KPMG Audit

Ms. Vishaka Khandelwal


KPMG Audit

Mr. Vishal Patel R


KPMG Audit

Mr. Yogaraj BS


KPMG Audit