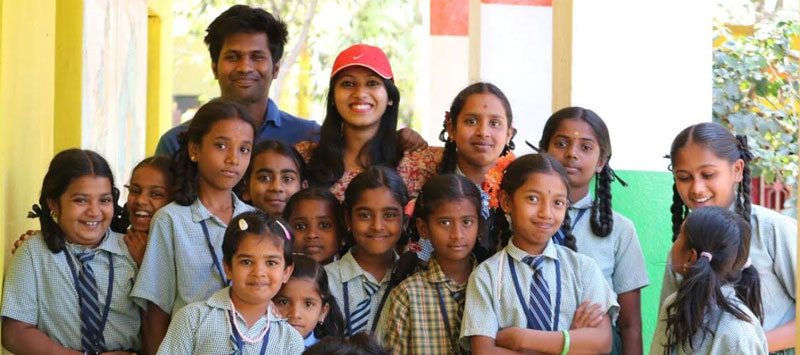 Soul-filling experience
Sharlet Peter
II MA, JMC
Brian Herbert, a famous American author had rightly said "the capacity to learn is a gift, the ability to learn is a skill; and the willingness to learn is a choice". This was true for the MA students of Journalism and Mass Communication. As we were fortunate enough to learn and teach on February 27, 2018 at Byalahalli, Kolar district, Karnataka. It was a rural exposure camp that had 22 media students along with a faculty member.
We organized various awareness campaigns, career opportunities, literary, cultural and sports programmes for 125 school children. We also undertook media-socio-economic survey as we collected data from around 25 houses in the village. The survey revealed that many of the households did not have access to media. Even though they were financially doing fine, they did not have any access to television, newspapers, radio or even the smart phones. The families practiced agriculture and so were away from media. The survey also identified their difficulties in road transportation and connectivity issues, hospitals and health care centers.
What struck me the most was that despite their 'technological drawbacks', the small community had a generous heart. They shared their food with us. They also shared their thoughts on the present government and the need for media.
The school children had a gala time during the fun activities session, as it was a splendid opportunity to showcase their talents. This exposure was surprising as well as a new learning for an urbanite like me. I was impressed by the traditional methods they used for a living. It was nice to see the school children show sportsmanship when they participated in sports.
The village community welcomed us with warm hospitality and we were wrapped in love and good wishes from the community. The programme concluded with awarding the prizes for the runners-up and winners of all the programmes arranged for the children.
The rural exposure was immensely helpful as it helped us take back life lessons from a community that is deprived of strong media presence and other amenities. But, it had found several other alternatives to stay peaceful and happy.