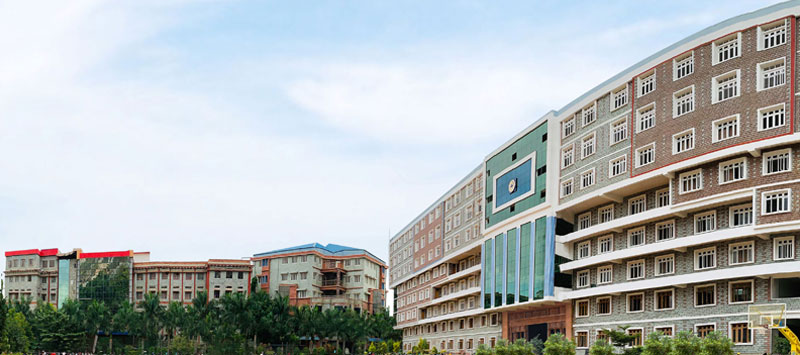 The subtle Journey of KJC in nurturing a lifelong green consciousness among Jayantians
Sristy Chhetri
II MA JMC
Do your teachers accept the assignment if you submit it on time? Yes, right? Well, mine don't.
Yes, you read it right.
In case, if we submit our assignment in plastic files, our professors at Kristu Jayanti do not accept it, even if it's on time, as my teachers encourage "minimum use of plastic".
Almost all the aspects in the college have an environmental suitability impact, be it the setup of solar power, rainwater harvesting, waste segregation or our teachers using their powers to make us go green. Planting trees on various occasions, our environmental club, our medicinal garden, and everything instill the idea of nurturing green in our life. Can you believe it! Our faculty and students have adopted electric car usage and the management has put up multiple car charging points at the campus to encourage them to use electic cars. And don't be surprised to see the Jayantians on cycles too.
Every Jayantian, who steps into the campus consciously or unconsciously gets into the condition of green practices through its strategic planning and support in multiple realms. Hence, I promise the recruiters and the society at large that every Jayantian plays a vital role reducing adverse environmental influence.
Rigorous research conducted by life science faculty members to the articles and columns written by Journalism Professors and green awards secured by the institutions makes every Jayantian proud of their faculty and institution. I also admire the number of programs conducted in the campus every year in the form of Seminars, Guest lectures, Dramas, Competitions to promote an eco-friendly environment.
Who can forget the memory of "Sangam" a theatre program conducted by MA English department still gives me goosebumps, beautifully they had presented the importance of saving rivers, and The "Synectics 2K20" conducted by MBA department of Kristu Jayanti became one of the paper free fest of the country. And such innovations have made them internationally renowned. Computer science department hosted a week- long e-waste collection and disposal campaign which encouraged all of us to be conscious about generating e waste.
But nothing beats the memory of witnessing our Principal re - placing the dustbin for the students without waiting for the cleaning staff ……. to seeing Professor Gopa Kumar picking the plastic and throwing it in the dustbin. That's how all our professors are here, MOTIVATING.
Gentleman Cadet Johns George Thampy, who is currently getting trained in Officers Training Academy, Indian Army, quotes "My College Kristu Jayanti, taught me to live each day in its own uniqueness rather than just existing as a mere chunk of creation. These tropical junctions were often transfigured by many into magnificent works of art which became vital in orchestrating various impressive occasions in the college. It was aptly radiated college's path towards pragmatic transformation and sustainable upgrading".
Mr. Ram Prasad, another proud ex-Jayantian quotes ``The Jayantian Extension service has planted several trees and plants in the nearby areas on different occasions like Environment Day. I was part of CSA and I still remember walking kilometers with placards in our hands, shouting "Let's save the world together, let's plant more trees".
Every day, the college management tries to find a new way to make our campus eco-friendlier and thanks to our Principal for making the idea of management come true and creating folks which enthusiastically follow the institutional mission wherever they go. Thank you, teachers, for inspiring us and thank you Jayantians' for imparting the legacy that began with our alumna ……
Let the best practices continue through me….. through you….. through us……….