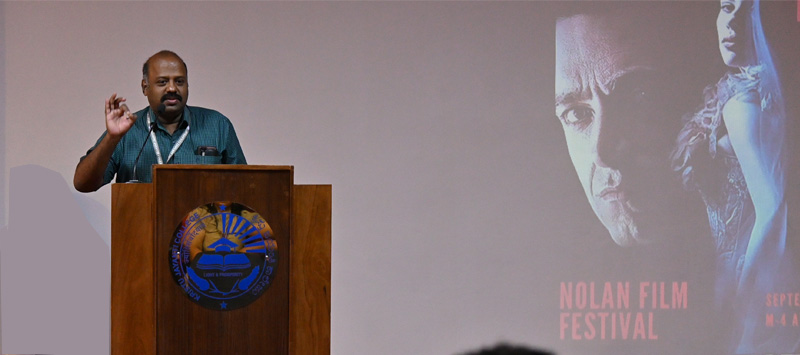 KJC- An Ideal Filmmaking Environment for Students
"THE MOST HONEST FORM OF FILMMAKING IS TO MAKE A FILM FOR YOURSELF." - Peter Jackson
The best kind of expressiveness a person can learn is through movies. It exerts a significant impact on society and the ability to profoundly influence how individuals perceive everything. By affecting the beliefs, views, and behaviours of those who see them, movies also have a cultural impact. It engages the audience and simultaneously instructs, informs, and amuses. The celebration of National Cinema Day in 2022 honours moviegoers and commemorates the successful reopening of theatres as it was challenging for viewers to enjoy the theatrical experience and to retreat to their houses' four corners during the pandemic. Students can make visually appealing information and artistically pleasant films through the Department of Media Studies at Kristu Jayanti College (Autonomous), Bengaluru. The resources offered by the Media department encourage the students to expand their understanding of film and its technical aspects.
Students of Kristu Jayanti College celebrated National Film Day by appreciating various directors and their approaches to movies. Students learned new information about filmmakers and how well they managed technical and directing aspects. People's lives have always included art, which exudes a vitality that no living thing can. One of the purest forms of expression is cinema, which can engross viewers and inspire them. Inspiration in the arts will always exist, and most films of all genres aim to connect with viewers through a narrative.
Films can open viewers' minds to new ideas and present them with a different perspective on society than what they are accustomed to. KJC has always been the powerhouse of visual media. Through Kristu Jayanti College, students get the chance to learn about the technical aspects of filmmaking and visual communication. The curriculum aims to develop socially responsible and compassionate visual media practitioners. Additionally, this programme offers students a wide range of valuable tools for incorporating media technology breakthroughs for efficient communication.