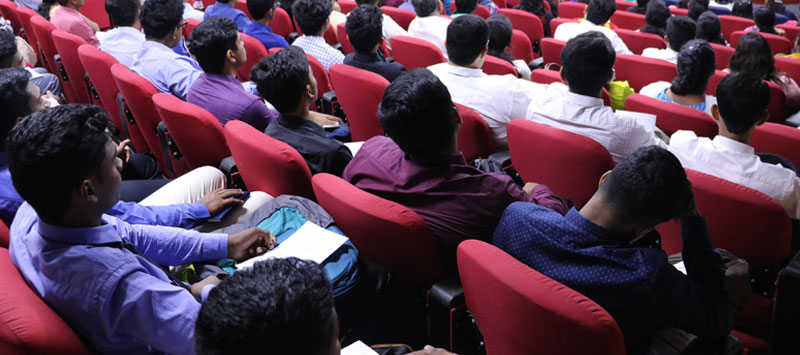 Life in KJC: A Gradual Focus Shift from Attendance to Academics
Sameeksha Bijalwan
BA Jpeng 'B' 6 Sem
My three years in Kristu Jayanti has come to an end. Life here has been full of ups and downs, laughter and cry, but it was truly worth it! Most of us step inside the college every day at 9am with only one objective in our mind i.e. to maintain our 85% of attendance, but often we fail to realise and see the opportunities the college is providing us with, we purposely close our eye towards that wonderful stage that Kristu Jayanti is giving us to showcase our talents in every field. We lose ourselves in the crowd and then blame others and we refuse to hold our teacher's hand to guide us as it is not considered to be "cool" at adolescence.
Undoubtedly, KJC has opened so many doors for me. It provided me with the best teaching faculty, green and beautiful campus and above all the privilege to be called as a 'Jayantian.' I started my college life having no idea about what to do in life and where to go in life, just like others lost in the crowd I dint want to be in the college. It was only in the 2nd year that I realised what KJC had done to my attitude without me knowing, it changed my focus from attendance to knowledge, from sleeping in class to being attentive, and from being a last bencher to a first bencher.
I had no idea about my future but then kjc introduced me to research. An 18-year-old student running around the entire college aimlessly now has an aim of doing research and getting it published. The goal was set but the path was unclear but KJC faculty became my guardians they taught me the basics of research encouraged me to study further about it and they became the helping hand that every student need in their lives.
Today I can proudly say that if I have two research papers successfully published it was because of KJC, if today I have been shortlisted for joining Chicago University of Psychological researches, it is because of KJC, they gave me an apt platform and the opportunity to shine. KJC has so much to offer, its all about our maturity and understanding about how to utilize it. We waste our time criticising about what we don't have but fail to realise that there is a difference between what we want and what is right for us. We complain about strict rules but fail to understand that those rules have moulded us as an individual ready to face life ahead. KJC has everything that one can ever wish for, from entertainment to academics, all we need to do is open our eyes and see it for ourselves and open ourselves to experiences both good and bad because this is what will make us good humans and 'PROUD JAYANTIANS.'