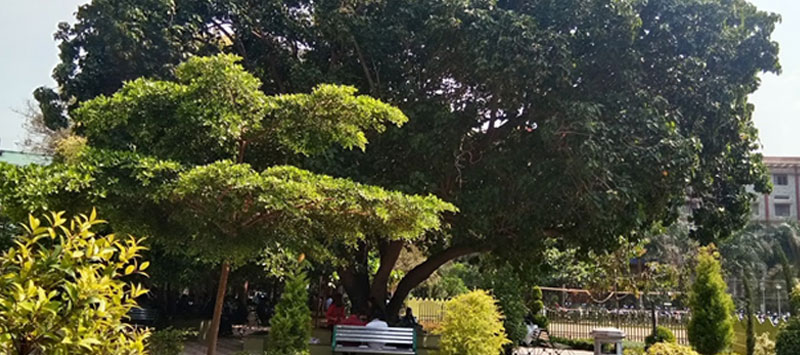 Most prefered lessuire Spots of Jayantians
Meena Reghu
II MA JMC
College life is so much fun when you are surrounded by lush green and clean campus, whether its to hanging out with friends, listern to music, working in groups and even to play your favorite games. And remember you might have made your best friends at these points.
In Kristu Jayanti College there are many corners for the students to relax, discuss and spent their lessuire time. Here are some top places choosed by students. They feel these places are apt for them to spend their free time with their friends and cherish their memories in their college life.
#1. The long cement benches
The long cement benches on the sides of college ground is an exiting place for the jayantians to sit and watch the matches. The lush greenery all around makes the spot more atractive to the students.
"I sit here because this area is shaded with green and it's a good place to spend time with friends," opined Leena, an undergraduate student.
#2. The mini amphi theatre at the main entrance
A mini amphi theatre shaped place at the entrance of the college, near to the ATM is the first mesmerousing view to any individual who steps inside the college. The wifi access makes this spot a favourable one for the tech savy jayantians.
"I like sitting here because of the bright light amidst of the shade. You can just sit here and have a cup of tea while discussing with friends," said Nisha, a post graduate student.
#3. The benches on the drive way
Its from here the most of the networking begins. You can begin to build a network of friends, beginning with just one connection and few seconds it multiplies.
"Most often we meet our friends during our transit inside the college and often tempted to join them. This place is lively to relax and chat with friends and have fun on your way in and out the college," said Raghu, another Jayantian.
# 4. Beneath the wisdom tree
"I like to sit under the wisdom tree. Because this is a place where, I can regenerate myself after hectic day." Opined Aaruthi, another Jayantian.
# 5. The car parking lot
Kristu Jayanti Car parking is one of the favorite spot of Jayantians to unleash their creativity. After the class hours you can listen to the music practices too.
"We prefer this spot for our dance, drama, promotions and other theatrical performance rehearsals," opined Alisha, an undergraduate student.