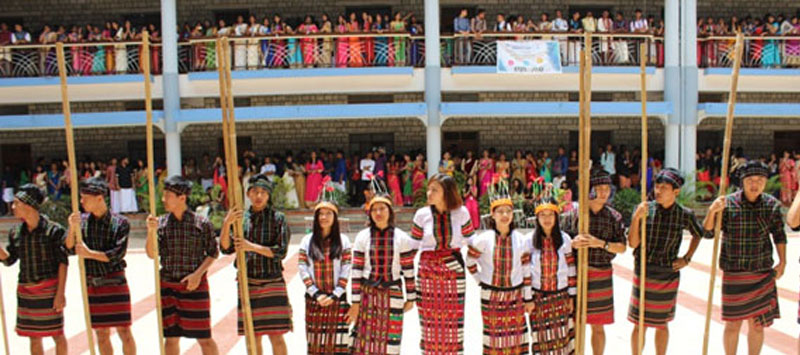 Ethnic day; celebrating the diversity
Besty Joy
II MA JMC
Kristu Jayanti College is a unique place with people from diverse cultures. Over a period of time, our college has shown that it's like a rainbow; where different people, from different cultural backgrounds dress up in their traditional outfits and add colors to the Ethnic day. Yes! The ethnic day celebration in Kristu Jayanti College was a day to remember, just the Jayantian way; every student was dressed at his/her best and presented them in an enticing manner.
Unity in diversity – well, that summarizes the entire thought! We could witness the mix of all the traditions. The best part of the day was, absolutely, the flash mob in the quadrangle. It was really fun to be a part of a wonderful day. Alisha James, 5th semester BA JP English Student said "I enjoyed being a part of the flash mob in the college quadrangle."
It's a time where we are completely busy in technologies and other gadgets; we have almost forgotten to celebrate the spirit of our culture and tradition. But, I must say Kristu Jayanti College gives us a chance every year to celebrate the rich cultural mix of different states and regions of our country; to blend into other cultures and traditional practices as well.
Anusha Sunny, a final Year MBA student quoted "It's a great pleasure to be a part of Kristu Jayanti College's ethnic day celebration. I was extremely happy with the way the college had arranged the program,"
In an era of modernization and westernization, the celebration of such special days, Give a feeling of respect toward our culture along with other cultures. It makes us respect and love all the other cultures.
Ethnic day of 2018 was certainly a memorable day. Especially for those who are away from their homes as it was a chance to recollect the memories associated with their states, cultures and traditions. Ethnic day in Kristu Jayanti College gave a chance to relive those moments by remembering and going back the roots of our diversity.