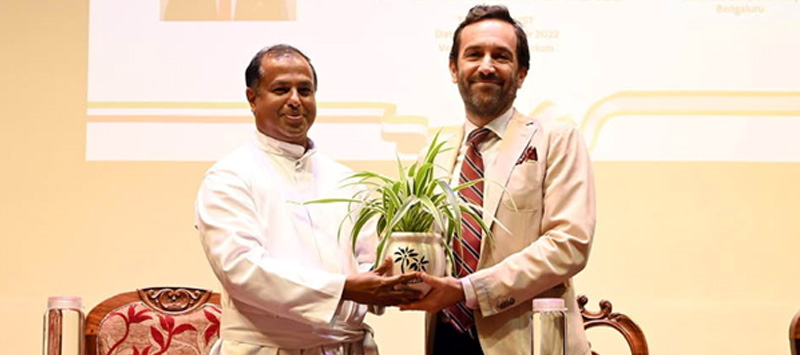 KJC: The Dream We Have for College Life
Sudharsan M - I MA Journalism and Mass Communication

"The whole purpose of education is to turn mirrors into windows."
I was looking for a college after acquiring my undergraduate degree, and my area of expertise involves the media. The first time I checked online for a college, I came across Kristu Jayanti College, Autonomous, Bengaluru and the campus, curriculum, faculty, and the beautiful greenery all drew me in. Yes, I entered the college and had high hopes for it, and they were all met. When I initially arrived at this college, I strolled near the lush garden and noticed a change in myself. I spent almost half-an -hour there, enchanting the beauty of the lush gardens, colourful flowers, the medical garden, and the birds fluttering around. After that, I proceeded to the grand inauguration for Shubh Aarambh 2022.
Each time I visit and relax on the lawn, it helps to keep my mind clear. The KJC is designed beautifully, and I enjoyed how well-organized it was while it operated. The multi-cuisine cafeterias, clean drinking water, libraries, restrooms, and water filters on each floor all contribute to the campus' tranquil ambiance even after class timings.
On the occasion of Teacher's Day, the college organised a celebration for teachers and students. It was an exceptionally special day, and the teachers put on incredible performances, dancing and creating music, especially for the students.
As per my experience, the best institution in Bengaluru for media studies and journalism is KJC. Kristu Jayanti College (Autonomous), Bengaluru received an A++ rating in 2021 by NAAC in the Third Cycle of Accreditation. And also, I am glad to be part of this PRCI Chanakya award winning department for best communication institution in India.
The teachers at KJC are excellent at imparting knowledge to the Jayantians. I am happy and satisfied with my professors as they also give us practical assignments that allow us to gain experience and knowledge other than theory classes. These assignments are also a part of our fieldwork, which has allowed us to carry out production works such as radio, television, blog writing, photography, newspaper designing, beat reporting, and other forms of media production. Another important opportunity that we receive in KJC is that the institution hosts national and international level programmes every week, either online or offline mode. And I am ever grateful to KJC, who has chosen me and allowed me to be a Jayantian forever.