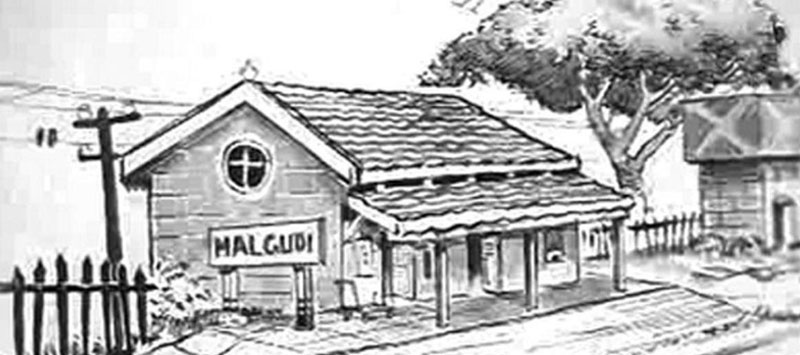 Revisiting the past through Shankar Nag's Malgudi Days
GouriPriya M.S
I MA English Literature
In one of the film studies classes, while teaching us how to read a film, our teacher mentioneda program called 'Malgudi Days', a TV series which was directed by Shankar Nag. Till then I had only heard about R. K. Narayan's world of Malgudi. A TV series based on it was unknown to me and when I heard about it, it created a sense of curiosity. Then, I decided to check and watch it on YouTube, and to elevate my spirits, the entire series was uploaded by an unknown kind heart. As I opened the video, the first thing which greeted me was a rhythmic classical rendition accompanied by the eye catchy illustrations of R. K. Laxman. And then I saw the soul of Malgudi come alive before my eyes; Swamy, his friends, the sweet vendor, post master; anything and everything about Malgudi.
As I watched the videos one by one, it was a lovely trip down my memory lane. R. K. Narayan, Kamala Das, Ruskin Bond, M. T Vasudevan Nair, were the first lot of writers my mother had introduced to me when I was a child. Among them R. K. Narayan and Kamala Das were my favourites, which hasn't changed till today. There is a sort of magic in R. K. Narayan's words; those words have the ability to ignite your imagination. When I read his books, I felt as though the entire landscape, the town and its characters came alive in front of my eyes.. And Shankar Nag's version was no different. He did a great job while translating Narayan's words onto the screen.
After watching three episodes at a stretch, my heart went out to Doordarshan. For my entire generation, Doordarshan was the Orkut among the TV channels. While skipping through the channels, most of us frown if the channel pops up. It actually took me a while to sink in the fact that it is the same Doordarshan which aired something as good as Malgudi Days, around three decades ago. For once I felt envious of my parents and elder cousins who got to watch such quality content in their time instead of the weepy, nonsensical daily soaps and highly dramatic, TRP mongering reality shows that we are addicted to. As I am about to end my words, I am opening another episode of the series, to immerse myself into the warm, innocent and aheart-warming world of Malgudi.