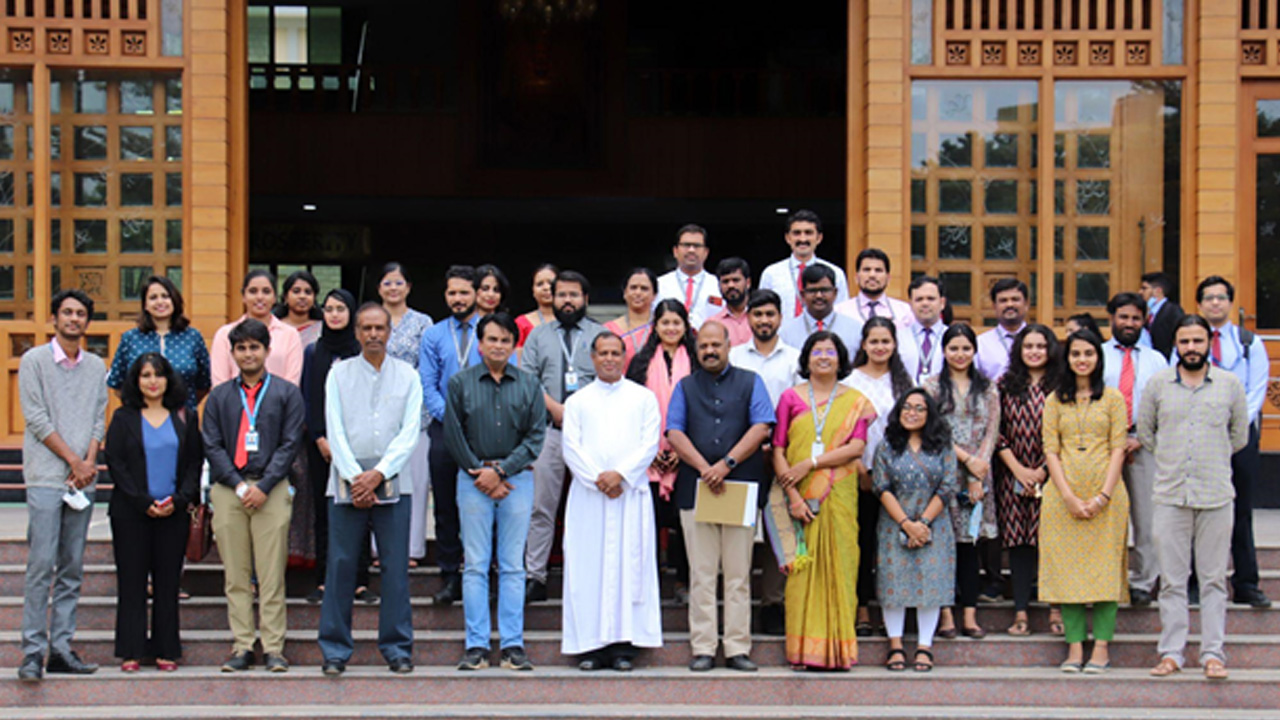 My Experience in the College's Mission to Nurture Academic Excellence in Students
Emmanuel Selva Royan - BA HEP 2019-22

The core values of Kristu Jayanti College—Faith, Integrity, Dignity, and Excellence—are evident in the process of the institution's constant growth and network with prominent institutions and personalities. One of institutional collaborative partner is National Institute of Advanced Studies, Bengaluru in which I could be part of, thanks to the college and Department of History.
The National Institute of Advanced Studies (NIAS) and Department of History have organized numerous online seminars on international relations and contemporary issues during the lockdown under the "Tuesday Lecture Series". The lectures given by diplomats and prominent academicians, exposed me to the thought processes of academicians and prompted interest in International relations. Post-Lockdown and towards the end of my third year, the tables turned. I was no longer sitting in the audience side of the auditorium but with the panel of discussants and presenters.
In March 2022, I joined NIAS as an apprentice for the Europe Studies Program. I will be grateful for the collaboration between NIAS and KJC and the recommendation of Prof. Ramya, my mentor and head, Department of History who was instrumental in helping me procure the apprenticeship. My name quickly began to appear in the NIAS's publications and newsletters as a result of the research notes. I worked with two Research Associates, Padmashree Annadhan and Ashwin Dhanabalan from NIAS respectively. They quickly transformed into fantastic friends and mentors for me, teaching me how to work as a team and to communicate diplomatically. I had the opportunity to meet and interact with prominent Ambassadors and Diplomats; one of them was our top diplomat and Minister for External affairs, Mr S. Jaishankar. My balance of work and studies during my apprenticeship pushed my limits and potential to stellar heights.
After completing my graduate studies, D Suba Chandran, Dean, School of Conflict Studies and Peace NIAS, took me in as a Research Assistant in the School of Conflict Studies and Peace. Working with a team of 10-12 members of the institute, I continue to work for the Europe Studies Programme. My fellowship further increased my professional network consisting of scientists and academicians at the institute. These interactions propelled me to pursue my current post graduation studies.
I am extremely grateful for Kristu Jayanti College and the Department of History for this opportunity to excel in my academic journey. The college's daily schedule made it possible for me to balance work and studies simultaneously. The library and IT infrastructure of the college also made it easy for me, as I could rely on the computer systems provided whenever needed. I am also grateful and have an admiration for Prof. Ramya, who was imperative in facilitating both faculties and students into research. I wish to come back to Kristu Jayanti College and give back what I gained to the young scholars in the near future.