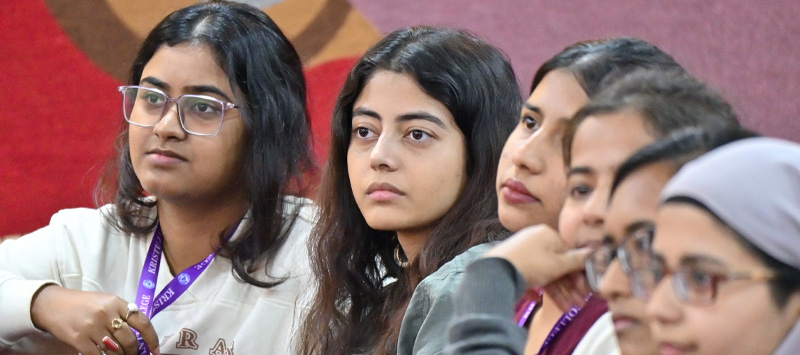 The Magic of Christopher Nolan
Ashmita Adhikari - 21MJMC04

Kristu Jayanti College's Media Studies Department organised a film screening day for the postgraduate students . The name of the movie was "The Prestige", directed by Christopher Nolan. After a long time, 'The Prestige' was screened in the college premises, and my reactions to it are rather intriguing.
The only thing missing from the movie about magicians is the titular Prestige. Michael Caine gives us a briefing at the beginning of the film and explains that every magic trick has three acts: the pledge, in which a situation that seems real is set up; the turn, in which the initial reality is called into question; and the prestige, in which everything is put back in its proper place. A hypothetical example—not one from the movie—would be a woman—always a woman, save for Penn and Teller—being put into a box, having the box sawed in half and the halves separated and then being miraculously repaired in one piece.
The promise of Nolan's "The Prestige" is that the symbolically sawed-in-half film will be repaired; it fails when it lies, as would happen, for instance, if the entire lady presented on stage were not the same one who was so regrettably chopped in half. Aside from that crucial weakness, which results in some obtuse disclosures near the conclusion, the film is quite good; atmospheric, obsessional, and even devilish.
My entire life, I have been in love with magic. Even though I spent years boring my friends with corny illusions and can still make a coin vanish from your forehead, I'm not very good at it. The talents needed for close-up magic these days most impress me. I may hold the cards in my hands and Teddy Nava, son of the writer-directors Gregory Nava and Anna Thomas, can change the cards. So how does he accomplish that? I'm very confident it's not through divine intervention. But I had them in my hands! When the trick is purchased, the trick is revealed. Yes, but what if you have to practice for months after being told the trick? By passing alternating current up Teddy's arm and down mine, Nikola Tesla isn't going to be of any assistance to me.
I sincerely hope that the screening becomes more frequent in the coming days.