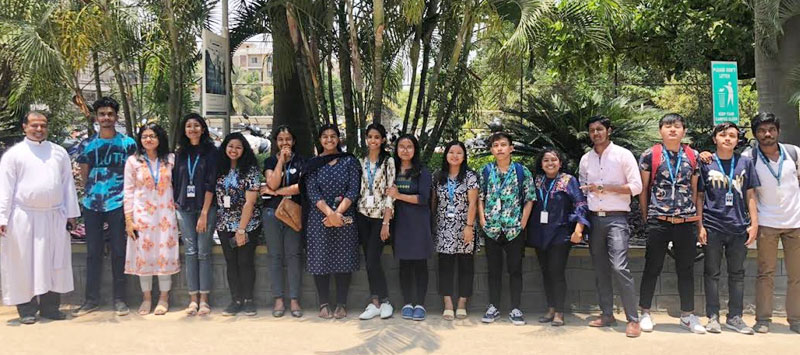 The Abode of Knowledge and Sanctity
Arjun Jayaprasad
II SEM BCOM - ACCA
The morning was warm and welcoming as I reached Kristu Jayanti College on May 28th 2018. The ambience was pleasant and positive. The thought of enrolling at Kristu Jayanti College made me delighted and radiant despite having an emotional end to my school life. My rendezvous with Rev. Fr. Josekutty, the Principal of Kristu Jayanti college gave me a sense of tranquillity as he proved that he was not just a priest but an able principal too .The interview with the Vice Principal, Rev. Fr. Augustine George was the moment when I was relieved as I came to an assurance that I can complete my course without any major obstacles. The college has managed to bring a sense of belongingness in every Jayantian in the compound of Kristu Jayanti. The college has a rigid protocol to deal with the social evil of ragging which is prevalent in most of the colleges across India, but as a Jayantian I proudly take the honour to state an appreciable effort by the management to enforce an anti-ragging committee that has been implemented strongly.
The faculty members of the college are undoubtedly proficient and maintain a cordial relationship with the students and also ensure to keep the Jayantian decorum intact. They enable each student to put across their points and feel that their opinions and suggestions are not to be undermined but scrutinized and empowered. The college always looks forward to improve the aptitude of the students by providing them different platforms to showcase their talents and vocational skills. There are many events held every year delivering ample of opportunities for the students to manifest their talents which include singing, dancing, and beat-boxing, art and craft, cookery etc. There are various inter and intra-collegiate fests and competitions hosted by the college which would help the students to boost their latent abilities and face the corporate world in the future with adequate confidence and a broad perception.
The college is constituted by students all over the country and also students ranging from diverse nationalities. The college ensures to provide a congenial atmosphere for everyone to interact with, not creating a differentiation in any sense. The college has an unwavering sense of dedication and devotion towards scholastic and community-centred activities creating a positive experience for everyone in the campus. As I enter my sophomore year, I hope to have innumerable opportunities to build my skills and hone my inter-personal relationships with my fellow Jayantians further stronger and reminiscing.