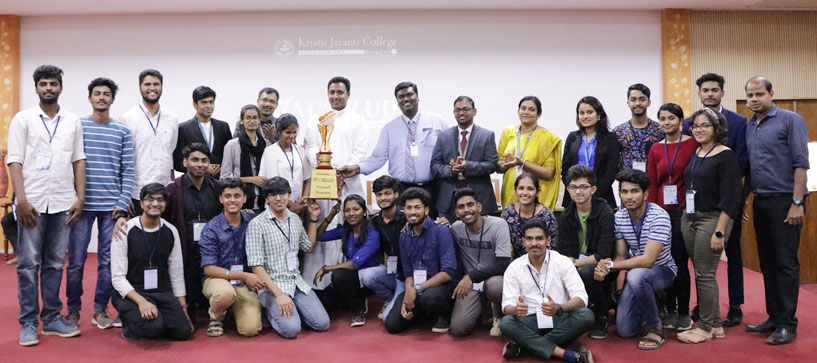 Computer Academy
COMPUTER ACADEMY is the computer science club maintained by the Department of Computer Science(UG) having more than 800 members. The students of Department of computer science are encouraged to undertake a multitude of curricular and extracurricular activities beyond their syllabus to enrich their knowledge base as well as skills. This serves as a forum to interact and harness their lateral talents and strengths through various activities. Many Interactive, innovative and intellectual sessions are conducted in technology on diversified areas.
The students are encouraged to participate, organize and be part of confluence between technology and academics through a series of programmes like:
Guest lectures,Workshops, Seminars and Technical video sessions: These enhances the educational experience by providing students with the current industry experiences, insights and perspectives on their domain.
Industrial visits: Students are exposed to a different landscape, variety of people thereby encouraging interaction, exchange of ideas and to acquire the knowledge about the basic functionality of an organization.
Inter and intra collegiate fests: An intra-collegiate fest "Synchronize" is organized for the first and second year students of computer science by the third year students where they get an opportunity to organize, participate and showcase their potentials. "Xactitude" is National level inter collegiate computer science fest envisaged by the academy where students from other colleges can showcase their intelligence and creativity in myriad facets of information technology.
Science exhibition: "Galaxia" is a two day science exhibition in which students from our college and other colleges develop computer science, electronics, statistics and mathematics projects which provide them an opportunity to experiment and innovate along with the curriculum learning.
Technical communities: Technical communities provide a platform for the students to discuss, share and update their knowledge in various domains of information technology.
Social outreach programmes: This programme provides the students an opportunity to recognize their social responsibility to give back and contribute to the development of the society.
As a whole computer academy is a gateway which allows our next generation scientists, engineers, teachers, entrepreneurs and artists to be able to innovate using computation, have excellent communication skills, be professional in approach and attitude, spotlight in big picture.
For any Queries and Feedback Mail to
computeracademy@kristujayanti.com
Ideathon 2023 - Institute level Internal Hackathon
Date: 13 September 2023
The College Internal Hackathon hung on 13th September 2023 was a splendid event that showcased the modern prowess of participating teams. With a panel of distinguished judges, the competition changed into fierce, and the ecosystem was charged with creativity and enthusiasm. The event featured a panel of esteemed judges, each with a deep knowledge of generation, innovation, and entrepreneurship. The judges played a crucial function in evaluating the initiatives and imparting precious feedback to the participants. Their understanding and revel in added a layer of professionalism to the occasion. Each team had a constrained time to offer their tasks to the judges and the target market. The presentations were informative, enticing, and showcased an extensive range of technical abilities and creativity. After every presentation, the judges engaged in a rigorous query-and-solution consultation with the groups, probing deeper into their projects' technical information and feasibility. The judges even gave some valuable suggestions to the participants to improve their ideas and implement it. The judges evaluated the initiatives primarily based on standards including innovation, technical complexity, practicality, and presentation talents. Each crew's capability to cope with questions and worries turned into also taken into consideration.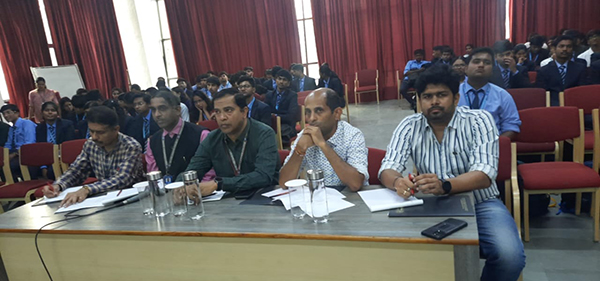 Student Development Program (SDP) on What You Need to Know About Goal Setting
Date: 01.09. 2020
No. of Beneficiaries (In-house): 47
Class: III & V Semester BCA and III & V Semester BSc.,
Resource Person: Mr. Sajjad Ahmed - Director - HR Capgemini
Objective:
To set goals that gives long-term vision and short-term motivation.
To focus on the acquisition of knowledge, and help to organize time and resources
Mr. Sajjad Ahmed currently working as a Director-Human Resources in Capgemini shared his views on Goal setting. The resource person discussed that goal setting is vital because it helps students to decide and focus on what's really important. He emphasized that effective goal setting allows measuring progress, overcoming procrastination and to visualize our dreams. If we don't know what we want to accomplish, we can't create a plan to get there. Goal setting not only allows you to take control of your life's direction; it also provides you a benchmark for determining whether you are actually succeeding. Mr. Sajjad elaborated that the goal setting is a process that starts with careful consideration of what you want to achieve, and ends with a lot of hard work to actually do it.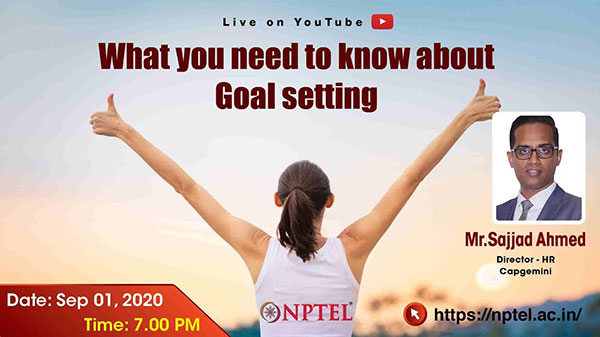 ---
Student Development Program (SDP) on Journey from Fresher to Executive - What are the Success Criteria?
Date: 30.07. 2020
No. of Beneficiaries (In-house): 323
Class: All BSc (CS & BCA)
Name and details of the Resource Person: Mr. Prakash Somani, Executive Director - Cloud Migration and Transformation Services IBM
A journey from student to the successful executive is multidimensional. The session handled by Mr. Prakash Somani has 27 years of IT Industry experience and have performed varies roles like Research Scientist in ISRO (Indian Space Research Organization), Technology Consultant, Enterprise Architect, Business head of Technology Transformation division and Offering leader for Cloud Transformation Services portfolio. The topic Study and performance in exams are key result areas for students. But as they enter into work environment, the parameters for performance change completely... Crucial success factors are "how to handle crucial communication", how to articulate thoughts, Do we work with emotional intelligence? Are we passionate for what we are doing? Can organization depend on you? Are we continuous learner? The presentation will cover a guiding principle for students which will help them to understand the soft skills they will have to acquire to become a successful executive.