Sanjay Leela Bansali- Filmic Style
Ms Ridha Sharieff, IV Semester BA Visual Communication student, presented an analysis of the filmic style and works of award-winning Bollywood film director, Sanjay Leela Bansali in the second edition of 'Techne – A Forum for Visual Analyses' on February 18, 2022.
In her presentation, Ms Ridha detailed the cinematic style of Sanjay Leela Bansali. She narrated his use of historical themes in films by integrating giant film sets, colourful costumes, lightings to showcase the mood and grandeur. Ms Ridha, through a brief video presentation, highlighted how Bansali uses symmetrically balanced frames, wide-angle shots, women-centric plots, vivid colour palettes to immerse viewers into his filmic world.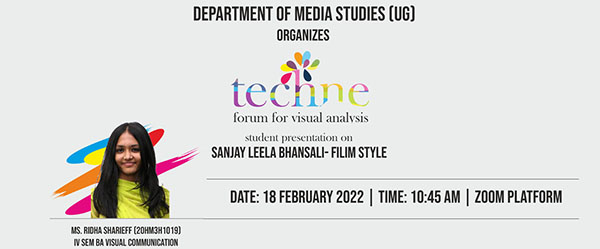 ---
Techne- visual analysis forum inaugurated
"User experience (UX) designers should design solutions by being empathetic to its users and there will be no technological progress without human evolution", said Mr. Sanu George, Head, UX design, IBS Software while inaugurating the visual analysis forum 'Techne' for the Visual Communication students of Kristu Jayanti College on October 28, 2021.
In his inaugural address Mr. George emphasized on the importance of the 'user' in 'User Experience Design' and presented the challenges that the designers face in developing effective user experience solutions.
Department of Media Studies started Techne- the visual analysis forum to cater students of Visual Communication programme to appraise various visual art forms such as paintings, sculptures, architecture, photographs, graphics, advertisements and many more. Participants in this forum will analyze the aesthetics, techniques and styles deployed by the creators of the visual forms. Furthermore, this platform also provides the students to exhibit and critically evaluate their works of art.
Dr. Gopakumar AV, Dean, Faculty of Humanities; Prof. Abraham, Coordinator, Department of Media Studies (UG) and faculty members and students were present during the inaugural session.
---
Michelangelo- Life and Works
Ms. S Aaqifa Hilmi, III semester Visual Communication student presented Michelangelo- Life and Works in the first edition of 'Techne – a forum for visual analyses' on October 28, 2021.
In her presentation, she explained the artistic style and significance of Michelangelo di Lodovico Buonarroti Simoni among the artists in the Renaissance Art Movement. Ms. Hilmi detailed on the Michelangelo's paintings, sculptures, architectural works and his well-known unfinished works. She explained about the frescoes on the ceiling of the Sistine Chapel, sculptures like 'David' and 'Pieta' along with his many other works.