Guest Lecture session: Keya Acharya (Environmental Journalist)
A guest lecture was conducted for the Post Graduate students of Journalism and Mass Communication on September 23, 2019. Ms. Keya Acharya, President of Forum of Environmental Journalist in India (FEJI) led the session touching different aspects of Environmental Journalism.
The students were exposed to the basics of environmental reporting and writing where Ms. Acharya cited various examples of environmental issues to make the session interactive.
From writing, research, physical supervision of the surrounding, getting credible sources, referring to experts for a scientific point of view to understanding the facts and figures thoroughly are all part and parcel of environmental journalism according to Ms. Acharya.
Keya Acharya, the co – editor of The Green Pen (First book on environmental journalism in South Asia) also highlighted the current environmental issues and their prospects to make a potentially good story. Along with this, problems with this kind of reporting as well as solutions were alluded throughout.
Environmental journalism was seen to be a separate entity because of its vastness but Ms. Acharya asserted that it is a field that encompasses all fields thereby contributing to the former. A good environment story comprises of perspectives from all aspects rather than one or two.
---
Guest Lecture by Mr. Kshithij Urs on 'Media as a Subaltern Voice'
The Dept. of Journalism and Mass Communication (PG) organized a guest lecture on the topic 'Media as a Subaltern Voice' by Mr. Kshithij Urs, Adjunct Professor of Public Policy, National School of India University, Bengaluru.
Touching upon various concepts like the Post Truth Era, Post Information Era and importance of Political Enlightenment, he emphasized the role of media as an agency for the people. By bringing in examples of geo-political relevance, ever concept was dealt with a larger perspective. There was a need, he mentioned to move over content and consent that was manufactured, rather as budding media professionals to keep in mind those who would be consuming the content that we create.
The importance of media in mobilizing people and public opinion cannot be understated and, in a democracy, the onus lies on media to play the role of the fourth pillar instead of being a tool in the hands of those who hold the power. Transparency and accountability in public policy, prioritizing the legal awareness among the public, he said would ensure that people, often not in positions of power would know their rights and would be able to create an agency for themselves.
target group- MA JMC students
The total number of beneficiaries: 45
---
Guest Lecture "Portrait and Fashion photography
The Photography club in collaboration with the department of Journalism and Mass Communication of Kristu Jayanti College organised a guest lecture "Portrait and Fashion photography" for the UG students on August 19, 2019. Ms. Anjali Lakra, Consultant, Wipro and a freelance photographer discussed with the students the nuances of portrait photography. The guest lecture was organized to commemorate the World Photography Day.
Ms. Lakra, who is an alumnus of IIM Kozhikkode, specializes in portrait photography. Her talk was filled with rich experience from her college days and also as a professional photographer. During the session, the students were presented with an opportunity to know how to organize a photo shoot when one is a beginner. She talked on how to select or cast a model for the shoot, how to identify locations and how to have an emphatic theme. She continued with presented some her works and what had inspired them. Students actively involved in the session by asking multiple questions and getting clarification on their doubts regarding portrait photography.
Classes Attended & Number of beneficiaries: BA, BCA, B.Com, B.Sc. and BBA.
Total students attended: 68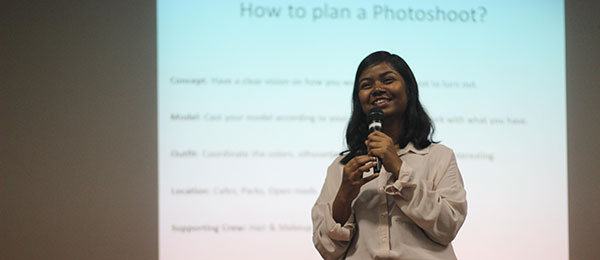 ---
Guest lecture on trends in film making

Mr. Mohan Krishnan, Head, Corporate Communication, Prasad Film and TV Academy, Chennai interacted with the Post Graduate Journalism students on August 9, 2019 on emerging trends in film making. The session was more technical but Mr. Krishnan broke the ice by giving the students a background on how he came this far in the field. From working in an ad agency to surviving in the corporate world, he had to undergo many stages of life to become the man he is today.
Mr. Krishnan started off the session by stating the most basic but often overlooked aspect of the film. He said, "In cinema, the main aim is producing a good story." He then emphasized the different ways of storytelling, Hollywood movies being one of the global storytellers catering to the wants and needs of the general audience. However, he pointed out why the Indian Film Industry rarely is being watched all over the world due to its lack in the global aspect. Nonetheless, this aspect of our industry need not be a negative one always since India is a country rich in its culture and movies tend to showcase these cultures to the specific audience following the same. When it comes to global storytelling he also pointed out how movies like The Jungle Book completely revolving around the lives of Indian characters have received global appreciation because of the approach in their storytelling. This he said is the beauty of Hollywood.
After an understanding of the aforesaid aspect of film, he then gave us new insights on the post-production process or workflow in the film industry. The first and foremost is a whole lot of background research which is again the living principle for the journalist to survive in the field. He then talked about how important it is to have a data management team who can take care of all the technical aspects of shoots in the editing process. He also touched upon the editing and cut list of a movie in post-production process where he emphasized on how visuals are restored to its original quality. As the session became more technical Mr. Krishnan opened the room for an interactive session with the students where he was able to give new perspectives to the reality of the Indian film industry as well as the technicalities of the entire post-production process.
Mr. Krishnan after taking quiet a number of questions he continued with the other technical aspects of digital colour grading and its ability to enhance the mood and emotion of a particular visual or image. This was made more understandable when he showed the students raw images and Graded images.
The last and most probably the most important is the sound, recording and mixing where visuals are needed to be identified with the sound in order for both to create a deeper meaning. One of the most interesting facts Mr. Krishnan touched upon is the usage of Celluloid films still today in movies like Dunkirk, Star Wars because it has a larger capacity to hold details. Celluloid films mostly come in 35mm to 70mm range and are sometimes more beneficial than digital films. He also said that the benefit of having film roles is how they can be constantly reproduced in the future by simply referring to the original films. With these aspects, Mr. Krishnan ended the session by showing some clips on how surreal visuals are shot, edited and processed in this academy.

---
Guest Lecture on Development Journalism
The department of Journalism and Mass Communication organized a guest lecture on development journalism for the final year postgraduate students on 27 July 2019. Students got to interact and listen to Shri. Ishwar Daitota, Senior Journalist and a man have known for this immense contribution in both print and television media in different roles.
Mr. Ishwar, who has a special liking towards teaching students, came fully prepared for his lecture, which started out from his discovery of the thrill behind being a journalist, went on to describe various experiences of his life and the true meaning of journalism.
He not only helped the students define concepts such as development and information but also helped associate meanings to them. From political reporting to environment issues, Mr. Ishwar did not hold back any information he deemed worthy of sharing. He was also particularly thrilled about interacting with the students and even took the time out to individually address each student.
The students had the opportunity to hear from an exceptionally experienced journalist who readily shared information through regular intervals of humor. "As a reporter, you must always Ask, Ask, Ask and then Verify," he said. He stresses; how happy he feels because of his career choice. For the students, the interaction not only added more data to their knowledge but also encouraged them to explore the layers of journalism.
---
Guest lecture on "Advanced Reporting Writing"
The Department of Journalism of Kristu Jayanti College organised a seminar on "Advanced Reporting writing" for the PG students on 10 January 2019. Mr Pradeep Nair, News Editor at The Hindu was the resource person. He explained different types of news, style of writing, maintenance of credibility in writing to the students in detail in his session.
The session started by introducing different types of news stories and the style of writing in each to the students. He shared tips to find news stories and the importance of maintaining credibility by giving attribution to the sources in the stories. "Attribution is very important in journalism. It enhances credibility to your story" he said. Mr Nair e also spoke how correct attributions are a means to counter fake news. "Publishing the source can be avoided if the information is very much sensitive, but should be revealed to the Editor-in-chief of the news organization "he added.
Mr Nair spoke about the dissemination of unauthentic news stories in social media and the trend among people in relying on social media for news. "Spending your time in social media for news is waste and assure the reliability of the news content in the forward messages before taking into your mind," he advised the students. He also emphasised on the importance of giving quotes in news stories. "Quotes gives life to news stories," said Mr Nair
He introduced a new variety in journalism "Data journalism" as a career option for the students which gives them the opportunity to go deep into the story. He also encouraged young aspirants to make use of western publications for reading which helps them in bringing innovative style into their writing.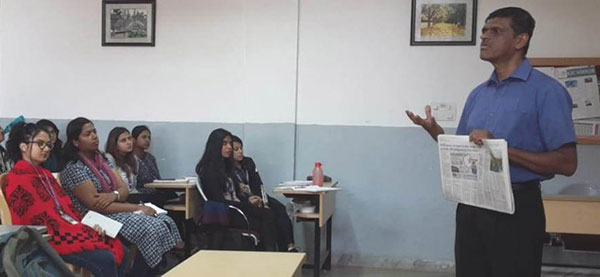 ---