TWILIGHT TALKS
The Department of Journalism and Mass Communication of Kristu Jayanti College in association with the Department of Media Studies, Christ BRG Campus, organised Twilight Talks – a month-long online lecture series from May 6 to May 30, 2020. The collaborative platform brought 21 accomplished resource persons from the media industry and academics to share their experiences and insights. The half an hour online session on every evening provided an interactive platform for the media students to interact with them.
The webinar series began on May 6 with a lecture on the 'role of media in the time of crisis' by Mr Dominic D'Souza, Vice President, Legal Regulatory with the Hinduja Ventures and former journalist. He explained the trends in media during the time of the pandemic. He also presented the challenges faced by the media and also the ethics that needs to uphold during crisis and distress situation. In the following day, Prof Umesh Arya, Life Coach, Healer and Corporate Trainer, Media Teacher took a session on 'Fact-Checking and Data Verification' where he introduced students various fact-checking tools and methods. The first week of Twilight Talks also had sessions from Dr K G Suresh, Director General at Indian Institute of Mass Communication and Mrinal Chatterjee journalist-turned-media academician.
The second week of Twilight Talk had six prominent speakers from different areas of journalism. The second week started a talk with Mr Arun PR, a screenplay writer, a director associated Malayalam film industry, who shared his journey from a screenplay writer to director. Ms Keya Acharya, President of the Forum of Environmental Journalists in India (FEJI) spoke about environmental journalism and Mr Vasuki Belavadi author and a Faculty Fellow, UNESCO Chair on Community Media at the University of Hyderabad expressed his views about 'Fake news: Newsfeed and Diffusion of Misinformation.'
Mr Ravi Kumar Dhulipala imparted his insights to the budding media enthusiasts about the scope of anchoring as a profession. Students got a glimpse of ' scope of digital advertising ' through the informative interactive session by Sherya Krishnan, VP – Marketing and Communications. Bhargav Roy, Technical Director at Doordarshan, talked on the changes happening in the post-production stage in television and broadcast industry.
The third week series of Twilight Talk has five experts. Mr Arun Bose, writer-director shared his journey and experience in the film industry. Following days had a session from Mr Anup Menon and Ms Kavya Narayan, Client Servicing, DNA Entertainment who shared insights about their areas of expertise in media. Ms Kavya explained in details about planning events and making a career out of it. Prof Manu Chakravarthy, an author, gave an insightful talk on the wonders of cinema. He explained how the concept of time was experimented by different filmmakers. Dr Juby Thomas, Faculty of Kristu Jayanti College provide a positive talk about the future of journalism and its scope.
The last week of Twilight Talk had insightful sessions by various experts. Dr Tan Ee Lyn, a veteran investigative journalist spoke about her journey in the field of journalism. Her talk had an insight into the eastern perspective of journalism, especially when covering the crisis. The following day had a session by Dr Ashwini Falnikar, Faculty Christ Deemed to be University. She session covered the topics of government, communities and communication which were always interlinked for the development of the nation. She shared her ten years of work in different areas in the country and how it benefitted the communities. On May 27, Wednesday, Mr Joseph Ammakutty Jose, RJ Radio Mirchi, shared tips on how to be an effective RJ. He said a good storytelling skill is essential to connect with the audience. The following day's session was by Mr Adarsh Nalam, independent content strategist and PR Consultant who spoke in detail about the PR industry, media developments, shifts in agencies and branding tactics to the audience. The last session of the Twilight Talks was by Mr Edison Thomas, Editor, Indulge-New Indian Express Supplement, Chennai. He said print media has a long way to go and audience trust print because the information in the newspaper is validated and verified.
The twenty-one day long online lecture series ended on May 30, Friday. It connected more than two-hundred journalism students and academicians of Kristu Jayanti College and Christ University. In the pandemic crisis, the Twilight Talks helped to provide well-rounded understanding about the role of media and journalism and the changing trends in the coming future.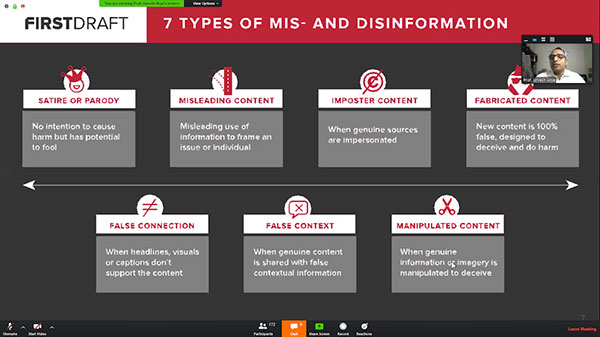 ---
For almost 1.5 years the residents of Hennur, Narayanapura and Kothanur have been witnessing road menace in their localities. The roads have turned into a dust bowl. The dug up roads to lay pipes haven't been repaired and the prolonged exposure to dust and pollution has invited a lot of health concerns. The Jayantians' decided to take a step to create awareness. Final year BA JPENG students organized a voluntary 'free mask distribution campaign' to create awareness on the seriousness of the issue on February 7, 2020; in the tri-junction of K.Narayanapura Cross. The news about the campaign was published in 15 newspapers and TV channels in Kannada, English, Malayalam, Marathi and Hindi for seven continuous days.
During this initiative students interacted with shopkeepers, vegetable vendors and bakery owners. Majority of them reported a drop in their business due to dust and the inability to display the products due to dusty air. Security guards of the nearby apartments and other offices were on the view that a single mask is insufficient to them and such initiatives by students are highly beneficial to them due to the nature of their job.
The campaign also intended to build a positive attitude towards wearing a mask, this awareness campaign aimed by students enhanced a positive attitude. Students of Journalism from Kristu Jayanti College, Autonomous saved their pocket money to help people around K.Narayanapura beat air pollution by supplying masks. Their independent efforts are really commendable to empower the pedestrians, students, auto drivers and the shopkeepers who are exposed to air pollution.
The difference between ordinary and extraordinary is that little Extra!!! And Kristu Jayanti College always goes the extra mile to make its students into socially responsible citizens and this initiative is proof of it.