Workshop on Human Values
Date: 13 April 2023
Scholarly debate on human values and character development has been there since the days of Aristotle [Nichomacean Ethics] and Socrates [Meno]. It is through education that young people are prepared for this social inheritance of human values. The duty of preparing well-rounded individuals was a task that was jointly taken up by parents and schools/colleges (and other educational institutions like the Gurukuls, ashrams, etc.), but things have changed drastically in the past few decades. It may be losing its charm.
The Department of Professional Accounting and Finance organized a workshop for the I year B. Com P5 student and commemorated Human Values Day. The workshop was headed by Dr. Nidhi Raj Gupta & Dr. Riya Singh, faculty coordinator for Human Values.
A workshop was conducted, comprising various activities such as offering appreciation cards to celebrate the bond among the peers. Also, a game related to teamwork was played to showcase the importance of teamwork and coordination as vital values and skills to possess in this day and age.
The workshop was a remarkable session for the students as it inculcated a sense of appreciation and gratitude. Observing this day reminds us that our actions and decisions have a profound impact on others, and encourages us to strive for a better future for all.
---
Visit to Tritava Ashram, Thanisandra, Bangalore
Date: 14 April 2023
The Department of Professional Accounting and Finance, Kristu Jayanti College (Autonomous) had an opportunity to do things differently on 14th April to commemorate the birth anniversary of Dr. Bhimrao Ambedkar, also known as Babasaheb Ambedkar, who was an Indian jurist, economist, social reformer and politician and is best known as the chief architect of the Indian Constitution.
The faculties and students decided to visit the Tritava Ashram, Thanisandra, Bangalore. They donated groceries to the Asharam. The students drew inspiration from the inmates and interacted with them. Despite challenges, the inmates welcome the students and the faculties, and their warmth and simplicity touched the hearts of the people who visited there.
In spite of fighting against the odds, their heart-warming welcome made our hearts skip a beat. The student's interactions with the inmates were a wonderful sight. Students entertained the inmates by playing games, singing, and dancing with them.
It was indeed a unique and gratifying experience for the students and faculty as they could bring smiles to the aged faces. The visit to the aged home has been an unforgettable memory.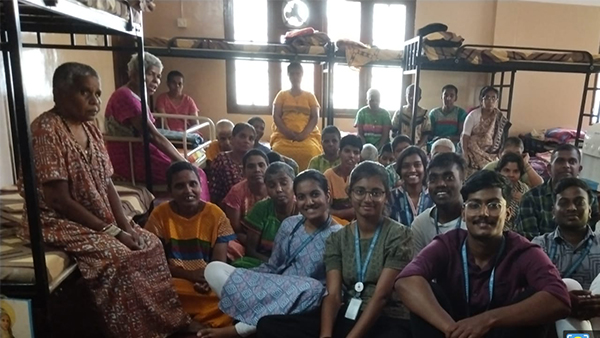 ---
"Shishtaachaar- A Session On Professional Ethics"
Date: 20 March 2023
Professional ethics are principles that govern the behavior of a person or group in a business environment. Like values, professional ethics too provide rules on how a person interacts with other people. Professional ethics are important to any organization because they provide personal and professional benefits by regulating the actions of a profession and stipulating the virtues of such a profession. They also encourage teamwork and promote bonds between colleagues. They are designed to ensure that employees are behaving in a socially acceptable manner.
With this intent in mind, the Department of Professional Accounting and Finance organized "Shishtaachaar – A Session on Professional Ethics" for the IV Semester B. Com Students on 20th March 2023.
Dr. R. Sashikala NLP, counselor, expert trainer, and writer addressed the students on the topic of Professional Ethics and Etiquette The speaker shared tips on ways to deal with people in a professional manner. The session included tips on anger management, problem-solving in relationships, networking, and developing an adaptable mindset to connect and network with others at work and even otherwise.