Staying relevant' in the current age
Date: 23-02-2022
Ms. Ruth Thomas, Teaching Assistant, Dept. of Professional Accounting & Finance talked on the importance of 'staying relevant' in the current age . She mentioned the different categories of generations that currently exist and how it has caused an issue of 'generation gap'. She also emphasized on the importance of venturing into social media and utilizing it to increase knowledge as well as staying updated on the changes in tastes and patterns in the world, especially in the classroom. She discussed upon various resources and tools that can be used to update oneself including the advantages of taking up an online course to develop on ones existing interest or creating new interests. Ms. Ruth reiterated that it was okay to ask questions when learning something new by quoting the words of George S. Patton Jr. that "when in doubt, observe and ask questions. When certain, observe at length and ask many more questions.'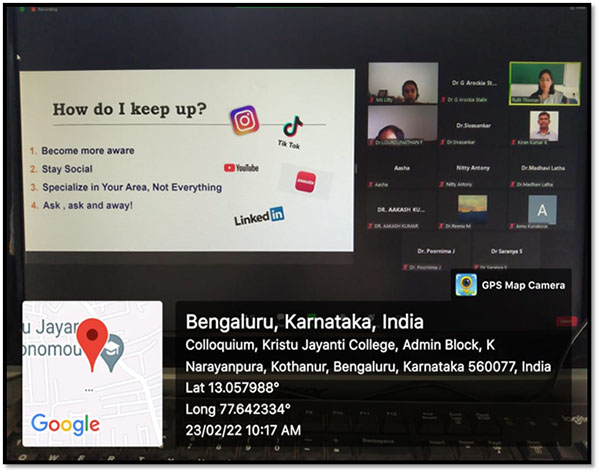 ---
Enhancing Stress Management Skills among Teachers
Date: 19/02/2022
Dr.S.Jayashree, Assistant Professor, Department of Professional Accounting & Finance have delivered a speech on "Enhancing stress management skills among teachers". She said that in the present century, teaching is becoming more challenging as a profession. The role of the educators, their responsibilities and the teaching activities are influenced by fast changing educational process which result into stress and the psychological well-being of an individual is affected.
Hence, she highlighted that teachers should follow strategies like flexi-timing, avoiding unnecessary interruptions, following efficient relaxation techniques on the weekends, schedule work effectively in order to maintain a positive work life balance. She discussed upon other coping strategies like stress management programs, physical activities, stress-audit, life style modification programs, supportive organization culture, spiritual programs in order to be healthy and stress free. She mentioned that formulating preventive and remedial strategies by the institutions can help to keep the employees away from stress and maintain work life balance.
---
Transforming Teaching Methodologies in Class
Date: 22/09/2021
Dr. Reenu Mohan, Assistant Professor, Dept. of Professional Accounting & Finance spoke on transforming teaching methodologies in class. The onset of the Covid-19 pandemic has led to a lot of unprecedented changes in the world. Many educational institutions, including students and teachers had to adapt to remote learning which posed many challenges, especially for the teachers, who have been striving to provide quality education without compromising the process and techniques of teaching. She mentioned the strategies adopted during the pandemic and how the faculties embraced the change in teaching methodologies. She emphasized on the importance of nanolearning and asynchronous learning for the students. She discussed upon various resources and tools that can be used to make the classes more engaging and innovative. Dr. Reenu reiterated that the faculties must continuously learn and keep themselves updated. She also shared details of the open source tools for e-content development.
---
Empirical Research in Accounting and Finance
Date: 25/08/2021
Beneficiaries: Faculties
Name and details of the resource person: Dr. S.RAJI Assistant Professor, Kristu Jayanti College (Autonomous), Bengaluru.
Dr.S. RAJI, Assistant Professor, Dept. of Professional Accounting & Finance spoke about NFT (Non Fungible Token). Non – Fungible Assets: Assets that are incapable of mutual substitution, not interchangeable, e.g Art, Deeds, and diploma etc., NFTs which acts like a digital certificate of authenticity. The market for NFTs ballooned in 2020, climbing to market cap of at least 338 million from about 41 million in 2018. NFTs are Unique cryptographic tokens that exist on a block chain and cannot be replicated. NFTs can be used to represent real world items like artwork and audio etc. Token is nothing but certification of ownership. NFTs can also be used to represent peoples identities, property rights and more. NFTs can remove intermediaries, simplify transactions, and create new markets. No middleman work.
---
Block chain technology
Date: 18th August 2021
Block chain is a specific type of database, an electronic record-keeping technology. A database is a collection of information that is stored electronically in a computer system. It differs from a typical database in the way it stores information, Block chains store data in blocks that are then chained together.
As the new data comes in, it is entered into a fresh block, once the block is filled with data it is chained on to the previous block, which makes the data chained together in chronological order.
Different types of information can be stored on a block chain but the most common use so far has been as a ledger for transactions.
The concept of bit coin is also based on block chain technology. In case of bit coin, block chain is used in a decentralized way so that no single person or group has control –rather, all users collectively retain control.
The advantages of decentralized block chain is immutable, which means that the data entered is irreversible. The transactions are permanently recorded and viewable to anyone.
Some state governments like AP, Telangana have started block-chain related solutions in areas of land registry, digital certificates, electronic health records etc.
RBI proposed block chain technology for cross border payments, trade finance for MSMES in public sector banks as well.
Private banks like Yes Bank, Axis Bank , HSBC introduced block chain technologies in the fields of international payment, commercial papers , trade finance transactions etc.
Recently block chain technology is also used in health care sector, HR field, Government services, And Venture capitalists etc.
Blending of block chain social media will solve problems in social media related to privacy violations, tortious scandals, data control and content relevance. Published data in the social media domain remain untraceable and cannot be duplicated. It ensures that the power of content relevance lies in the hands of those who created it, instead of the platform owners. Block chain technology will help deliver solutions which will establish transparency and trust.
Advantages of block chain technology
• Lower transaction cost.
• Protection from cyber-attacks.
• Maintain confidentiality and operate in a closed ecosystem.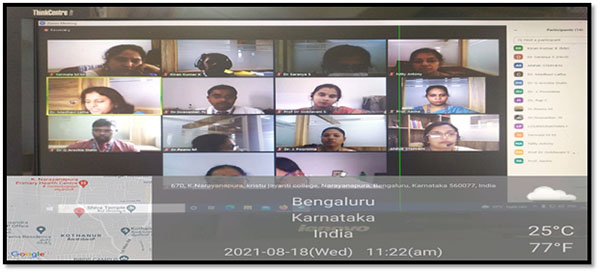 ---
CBDC (Central Bank Digital Currency)
Date: 11/08/2021
Beneficiaries: Faculties
Name and details of the resource person: Mr. K. Kiran Kumar, Assistant Professor, Kristu Jayanti College (Autonomous), Bengaluru.
Mr. K. Kiran Kumar, Assistant Professor, Dept. of Professional Accounting & Finance spoke about CBDC (Central Bank Digital Currency), and its working operations and how it is going to support to the flow of currency in the Indian Economy, he also deliberated on importance of digital currency which is issued by the RBI when it was approved by the Central government as legal tender. He also highlighted the following concepts: RBI polices with regard to CBDC, current alternatives, how inflation can be control with CBDS and advantages, disadvantages of CBDC followed with Legal Framework.