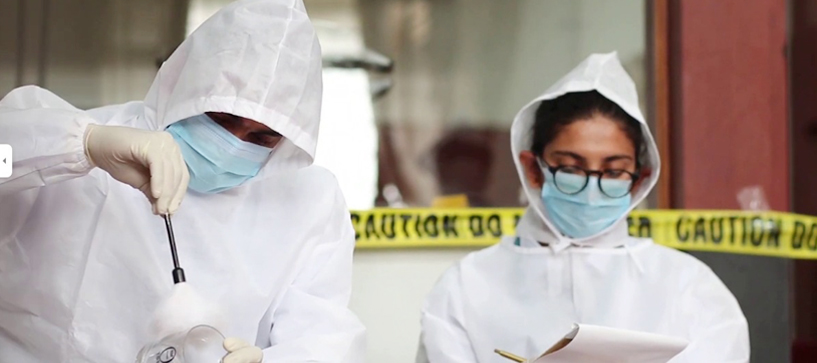 Department of Forensic Science
The Department of Forensic Science was initiated in the year 2019 with the aim of providing comprehensive and holistic education and training to aspiring students in the field of forensic science.
Realising the immense need for quality education and training in the field of forensic science for the employment avenues opening up both in the public and private sector, the department of forensic science offers both the undergraduate B.Sc. programme and postgraduate M.Sc. programme in forensic science. Both the programmes have been designed keeping in mind to make students industry-fit, research-empowered, and ethically competent.
The department is endowed with two state of the art laboratories, a crime scene simulation laboratory, and an instrumentation facility. It strives to be research-competent by adding to the tally of instruments and lab-ware on an annual basis. The academic schedule is balanced with adequate theory hours, practical hours, and activity-based learning hours to ensure students equip themselves with both theoretical and hands-on experience.
The department also organizes expert guest lectures by renowned personalities and industry experts, career orientation sessions, seminars, and workshops on interesting and modern topics. The annual conference organized by the department, International Conference on Advances in Forensic Science (ICFAS) aims to provide a platform for researchers and experts across the globe to discuss and empower the aspirants of forensic science.
The syllabus of B.Sc. and M.Sc. Forensic Science programmes cover the latest information available and the technical innovations in the respective majors and related subjects. The curriculum is designed based on the current needs of the industries and various Research and Development sectors, so that employability can be improved. We encourage and emphasize student research activities through add on programmes and minor research projects. The other priorities include developing entrepreneurship skills and grooming students to become future scientists.
Programmes offered
B.Sc. Forensic Science (Single major)

BSc Biotechnology & Forensic Science
M.Sc. Forensic Science
Programmes offered
Curriculum
About Department
Department Activities