Date: 26/02/2020
Place of Visit: Axxonet System Technologies, Pvt LTD
Classes Attended & Number of beneficiaries: II Semester B.Sc. (Honours) Forensic Science. 44 Students
Objective: To introduce the students to the practical aspect of the field of forensic psychology and the procedures involved.
The students of second semester B.Sc. (Honours) Forensic Science were taken to Axxonet System Technologies, Bangalore on 26th February 2020. The students were accompanied by two faculty, Dr. Reena Josephine and Mr. Don Caeiro of the department of Life Sciences. They reached the venue at 10:15 AM. The visit started with a briefing on the company and a lecture session on Polygraph. Further the demonstration polygraph was done on two students and the students learnt how to read the graphs generated by the machine in order to determine whether the individual is deceiving or not. The students were also trained on the methods of questioning that should be used for the procedure of polygraph and they were familiarized with the instrument and its components. Then they were taken to the Brain Electrical Oscillating Signature Profiling Laboratory and were explained about the process of BEOS. A demonstration of the Electroencephalogram (EEG) was done for the students to show how the activity of the brain is measured and detected with respect to the various responses given in a forensic scenario. An explanation of the process of BEOS was given and the students were enlightened on the various cases that polygraph and BEOS were used in the country.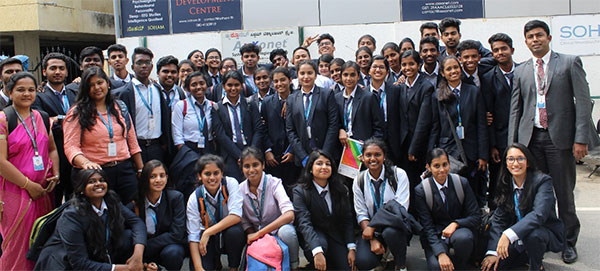 ---
Date: 19.02.2020
Classes Attended & Number of beneficiaries: VI Sem (B.Sc (BBG & MBG) - 88 students
Places/Industry Visited: SS Vermicompost Farm & Industry, Madurai
SS vermicompost is a growing need of the agricultural sector through its quality products and prompt services. The company is dealing with Agro 100% Organic products like Vermicompost manure, Panchakavya, Organic Pesticides, Bio inputs, Soil Conditioners, Humic Acid and Micronutrient Fertilizers. They manufacture Vermicompost including organic manures in Tamil Nadu and offer the best quality of vermicompost by inculcating prime techniques. They are prominent manufacturer, supplier and exporter of these products. In addition to this, the company has also earned appreciation for providing Agricultural Consultancy and Analysis in the most professional way. The company is certified with ISO 9001:2015 and is acknowledged as the registered member of NSIC (National Small Industries Corporation). Vermicompost is a process of composting and utilizing various species of worms, to create a heterogeneous mixture. Vermi technology is a method of converting all the biodegradable waste such as cow dung, press mud (sugarcane crush), farm waste, kitchen waste, market waste, livestock waste etc. into useful products through the action of earthworms. The output is called the Vermicompost which is free of toxic chemicals and biological pollutants. Earthworms form a major component of the soil system and the organisms have been efficiently ploughing the land for millions of years and assist in the recycling of organic nutrients for efficient growth of plants. Though many species of earthworms are suitable for waste processing, two species namely Eisenas fetida and Eudrilus eugeniae have mainly taken into consideration for Vermicomposting.
---
Date: 19/ 02/ 2020
Classes Attended & Number of beneficiaries: VI Sem (B.Sc (BBG & MBG) - 88 students
Places/Industry Visited: Kodai Cheese Products, Viralipatti.
Kodai Cheese began its tryst with cheese making in 1972 in a small factory in Kodaikanal, founded two generations ago by Sri Shanker. It is a fully independent, family-owned firm. We were addressed by the founder's grandson Hari who studies cheese making in Australia. According to him, the operations have been streamlined over the past several years to remain truly Quality centric and support a dedication to furthering of the exclusive Kodai Cheese brand. The company now has a solid reputation across both its national and international clients. Each variety of cheese they create is created specifically to contribute to a balanced diet and to bring a host of health benefits. This is carried out through unique techniques that do not destroy nutrition and food value but preserve natural goodness. One can choose a number of varieties of cheese ranging from a fattier cheese like Kodai Cheddar, there are also lean varieties like Kodai Ricotta. According to them, the differences lie in salt content, cooking temperature, maturity, additives, and the type of bacteria used which gives each variety a different character. We were given different varieties of cheese to taste. They were absolutely delicious. The whole farm they have is filled with little innovations which add up to the name they stand for. Hari is an amazing person with a good sense of humour. He introduced us with many other techniques in dairy farming too. His cheese is used by various MNCs like Dominos and Big basket.
---
Date: 19/02/2020
Classes Attended & Number of beneficiaries: VI Sem (B.Sc. (BBG & MBG) - 88 Students
Places/Industry Visited: Sanat Spirulina Farm, Madurai
Sanat Products Ltd. is an emerging innovation-driven pharmaceutical company, based at the Capital of India New Delhi. Established in the year 1984, the company is engaged in the manufacturing and marketing of pharmaceutical, nutraceuticals, cosmeceuticals and herbal extracts. The company has Research and Development (R&D), manned by competent professionals at the corporate office as well as at manufacturing plants. The R&D wing of Sanat Products Limited is highly advanced and is duly recognized by the Department of Science and Technology (DST), Government of India. At the same time, our manufacturing units are well equipped with advanced extraction units, spray driers and active ingredients markers such as High-performance liquid chromatography (HPLC), Gas chromatography (GC) and UV spectrometers. Spirulina is a blue-green alga with high protein content and composition of vitamins, minerals, carotenoids, and antioxidants that can help protect cells from damage. It contains nutrients, including B complex vitamins, betacarotene, vitamin E, manganese, zinc, copper, iron, selenium, and gammalinolenic acid (an essential fatty acid) important for healthy living. Spirulina is low in calories and cholesterol. Spirulina is a natural food which has been used as food since ancient times. The method of its culture and production is also safe and hygienic. Spirulina has been proved to be safe food through strict toxicity tests by various research organizations. The visit enabled the BSc. students to understand the concepts of Agricultural Microbiology with a practical exposure.

---
Date: 18.02.2020
Classes Attended & Number of beneficiaries: VI Sem (B.Sc (BBG & MBG) - 88 students
Places/Industry Visited: SRRC- Mannavanur
A team comprising 132 students (Under graduate final year, 88 and Post graduate final year, 44) and three faculty members from the Department of Life Sciences, Kristu Jayanti College, Bangalore-560077 made an industrial visit to Southern Regional Research Centre (SRRC), Mannavanur under the leadership of Dr. Challaraj Emmanuel, E.S., Associate Professor, on 18th February 2020. The core subjects for the undergraduate students were Biotechnology/ Microbiology, Biochemistry & Genetics. The major discipline of the post graduate students was either Biotechnology or Microbiology. At the outset, Dr. A.S. Rajendiran, Principal Scientist and Officer In-charge of SRRC Mannavanur welcomed the group and briefed about SRRC's history, objectives, milestones, species of focus and all about the activities undertaken. Dr. G. Nagarajan, Senior Scientist (Animal Bio-technology), delivered a lecture to the students on "Utility of the Biotechnological tools in the Sheep Husbandry and Rabbit farming" & further he spoke about the common infectious diseases of Sheep and Rabbits as well as different types of vaccines being commonly used in Veterinary sciences. .Dr.S.M.K.Thirumaran, Scientist (Animal Genetics & Breeding) explained about the various breeds of Sheep & Rabbits and their utility in different geographical areas of our nation. The lectures were followed by brief students- scientists' interaction. All the students came to know about biotechnological tools for improving livestock production, disease diagnosis, vaccines, managerial aspects of sheep husbandry & rabbit farming and expressed their gratitude to SRRC, CSWRI for giving them adequate information of their interest. The faculty members of the said college are much eager to look forward to having MoU for the mutual exchange of resources, expertise and scientific knowledge. Finally, Dr. S.M.K. Thirumaran, Scientist, explained about the various employment opportunities available for the students and thanked the students, faculty & administration of the college, for having chosen the centre for their Industrial Visit.

---
Date: 24-01-2020
Class & No. of students: II Sem B.Sc MBG & II Sem B.Sc BBB
Number of Beneficiaries: 45 (II Sem B.Sc MBG), 18 (II Sem B.Sc BBB)
Places/Industry Visited: ICAR- Indian Institute of Horticultural Research, Bengaluru
Visit to the ICAR-Research Institute was based on the Agronomy and Biotechnology application for the development of medicinal plants. The visit was initiated with cross talk with students delivered by Dr. Rajashekharan, Principal Scientist, on basics of agriculture biology and the future aspects in research and industries. The method of cryopreservation of seeds and pollen was explained and the cold room having liquid nitrogen reservoirs was also shown. After this, students visited experimental field and saw many medicinal plants such as Adathoda, Ixora, Cyanodon, Moringa etc. Students also were privileged to see some practices used in the field like bagging to avoid cross pollination and green houses. The overall visit was very informative for the students.

---
Date: 23rd January 2020
Class & No. of students: IV Sem B.Sc MBG, 47 students
Places/Industry Visited: Central Institute of Medicinal and Aromatic Plants, Allalasandra, Yelahanka, Bengaluru, Karnataka 560064
Name and details of any external agencies/contacts involved: Dr.V. Sundaresan, Scientist, Central Institute of Medicinal and Aromatic Plants, Allalasandra, Yelahanka, Bengaluru -560064
Industrial visit is one of the tactical methods of teaching. The department of Life Sciences, Kristu Jayanti College organized an industrial visit to CSIR- CIMAP (Central Institute of Medicinal and Aromatic Plants), Yelahanka, Bengaluru for students of IV Sem B.Sc Microbiology. The students were accompanied by Dr. Shweta Sharma, Assistant Professor, Department of Life Sciences. The students along with the faculty started for CIMAP by 10:30 AM and reached CIMAP at 11.05AM. Dr. V. Sundaresan showed them the facilities in CIMAP lab assisted by Mr. Nazeer -a research scholar from the same institute. The students were led to the field where different types of aromatic and medicinal plants developed by the institute were cultivated. Almost 3 different varieties of mint and Tulsi were there. Ashwagandha, Aloe, Rosemary, Lemon Grass, Germanium were among the other plants cultivated. Field distillation units that have been commercialized have been installed and transferred to several farmers/ entrepreneurs. Students were given an opportunity to participate in the process of distillation. After the field visit, we were visited the laboratories where the research students conduct research on plant endophytes, plant tissue culture, molecular aspects, etc.
---
Date: 27-09-2019
Class & No. of students: I Sem B.Sc. BBG
Number of Beneficiaries: 52 Students
Places/Industry Visited: ICAR- Indian Institute of Horticultural Research, Bengaluru
An Industrial visit to "Indian Institute of Horticultural Research (IIHR)", Hessaraghatta Lake Post, Bengaluru, Karnataka-560 089 was organized by Department of Life Sciences, Kristu Jayanti College, Bengaluru on Friday, 27th September 2019. Fifty students of first semester B.Sc Biotechnology and one faculty member visited to IIHR, to interact with the Scientists to understand current developments, most-demanding technologies and criteria for improving crops, selection etc.
The main research agenda of the institute is to increase the yields of horticultural crop varieties by developing high yielding varieties in fruits, vegetables, ornamentals and medicinal and aromatic plants and also to develop advanced production technologies to increase the productivity of horticultural crops. The IIHR, Bangalore has been carrying out active research in fruits, vegetables, ornamentals, medicinal and aromatic plants and mushrooms.
Dr. Venkatta Kumar, Principal Scientist and The Head, Extension and Training Centre, gave a brief introduction about the development and goal of Indian Institute of Horticultural Research (IIHR) to the students. The Technical Head of IIHR conducted very informative teaching session for the students. He highlighted the emergence of new challenges in the fields of productivities, crop production, crop protection and crop utilization. His emphasize laid on developing integrated pest and disease management technologies to increase crop yields, protect crops from insect- pests, disease and viruses free and extension of shelf life of crop production, developing integrated water and nutrient management protocols towards optimum utilization of resources developing Post Harvest Management practices to reduce the post-harvest losses, breeding varieties for biotic and abiotic stresses, breeding F1 hybrids, and further value added products and research areas. The students raised different questions to the Technical Head on current technologies for improving crops, hybrid varieties, post harvesting scenarios etc. and he cleared all the doubt and myths which was in students mind about the technologies practiced in the institute.
The students were then directed to research labs of Biotechnology Division which include Plant Tissue Culture (PTC) and Plant Molecular Biology laboratories. The Research assistants explained their research area and the on-going research in the institute and expounded the principles of various instruments to the students. Also they motivated the students to select their domain and area of interest for pursuing research in the coming future. The session was concluded with Question-Answer session. All students were satisfied after the session. The visit came to an end at 4.30 p.m. It was an informative, interesting and a successful visit. As students of Biotechnology, they understand importance of technology selection and its applications etc. We express our thanks to the Technical Head and all team members of IIHR, Bengaluru, who spent their valuable time with us. We sincerely thank our respected Father-Principal, The Dean and HOD, who motivated us to arrange such an informative program.
---