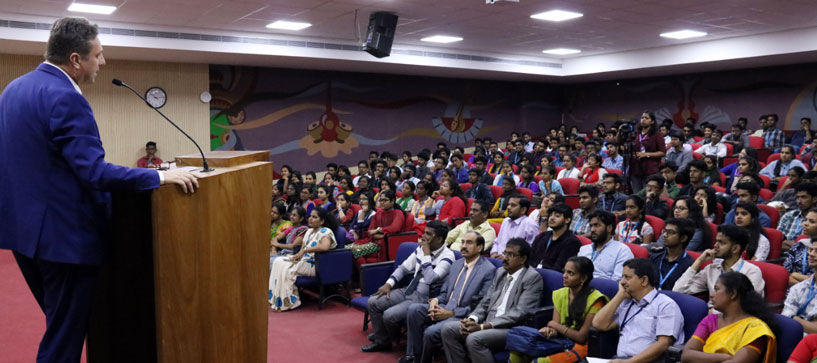 Value added Programmes and Certificate Courses
NSDC (National Skill development Corporation) : certificate programme on BFSI (Banking Financial Services and Insurance) by the Government of India under STAR (Standard Training Assessment and Rewards)
Moolyavardan
The Department has a set of Value Added Courses which adds merit to the curriculum learning of students. Certificate courses in Insurance Management, Retail Management, Excel, and Stock Market Management are also offered.
CA-CPT/CS Parallel Programme
The Centre for Professional Studies was established in the year 2003 with the objective of providing value based quality education to the B.Com and BBA students who want to pursue professional courses. It is a platform to prepare for the entry level exams of Company Secretaryship and Chartered Accountancy. The Centre is in collaboration with two Professional Bodies in this regard - Institute of Chartered Accountant of India (ICAI) and Institute of Company Secretaries of India (ICSI). The Centre facilitates training to enable students to become members of Professional Bodies - Institute of Chartered Accountant of India (ICAI) and Institute of Company Secretaries of India (ICSI) in the future. Regular attendance monitoring and tests keep students prepared for the exams which take place every June and December.
CENTRE FOR PROFESSIONAL STUDIES (CPS): In today's competitive world, a post-graduate degree or a professional qualification has become the need of the hour to enhance the competitive ability of the students and improve the job prospects. The world today sees a paradigm shift in talent acquisition. Commerce and its related discipline bring a plethora of opportunities for students. A young commerce graduate would find ample opportunities in the corporate world and even more if he/she is in sync with the needs of the industry both in terms of intellect and skills.
Keeping this in mind, the Professional Interface Forum is established to empower the students to be agents of transformation and development at various levels of life. This forum aims at equipping its students to enrich their knowledge and enhance skills to meet the challenges of a rapidly evolving world.
In this regard, the Professional Interface program conducted two guest lectures for the students. The guest speaker CA Narayanan Nambiar, spoke on the future prospects of a Chartered Accountant and the current changing trends in the fields of Accounting and Taxation. Guest speaker CA George Victor Crasta, spoke on the issues in taxation, to keep the students abreast with the changing roles and dynamism of the CA profession. Emphasizing on the need of clearing the exams by igniting the power that lies within oneself, CA Annie Stephen motivated the students to take up the professional exams with confidence backed by hard work and determination.
Certification Programme on Tally ERP 9:
The Certification programme is offered by Tally in collaboration with NICT for all the B.Com students. The programme is part of curriculum with an objective to impart practical training on Tally ERP 9.