Department Fests
Excelsior (Intra- collegiate UG fest): The Department of Commerce organizes "Excelsior" an Intra- collegiate fest. It is conducted during the odd semester every year. Excelsior has been a platform for the overall growth of the students. It imbibes in the students the quality of managing the given resources. Every year final year students unite in a combined and synergized effort to organize this fest. Not only does it allow the first and second year students to explore their creative and business sensibilities but it also provides a platform to exhibit textbook managerial practices in a more realistic and personal environment thus strengthening and confirming their understanding of core concepts.
Adroit (Inter - collegiate UG fest): Is a National level Inter-collegiate Fest and has always been synonymous with great academics, intellect and high IQ's for the past 10 years. This event not only provides a platform for students to compete with each other but, promotes talent and explores new ideas among them. The event promises a multitude of activities and rewards for the talented. Thus, Adroit gives future business leaders a break-through from class rooms into the dynamic and even competitive corporate world through a variety of business related calendar of events, testing their skills, knowledge, expertise, as well as their attitude.
Vanijya Darpan : Commerce Exhibition
Vanijya Darpan 2017: Commerce Exhibition
Vanijya Darpan 2017: The Commerce exhibition was held on 20 January 2017, in the Main Auditorium at 09.30 AM. Mr Shankar S, Senior Manager of the Indian Overseas Bank, Bangalore was the Chief Guest. He congratulated the efforts for the innovative exhibits and creative ideas presented. He spoke about the recent developments and advancements in the field of commerce and also the importance of getting updated with the present world and how to tackle the situations in the present. He told that all the sectors in commerce were covered in the exhibition right from the traditional Barter system to Demonetization to the Future trends in commerce and he was greatly impressed with the models exhibited.
Vanijya Darpan is the annual Intra Collegiate Commerce Exhibition hosted by the Department of Commerce of Kristu Jayanti College (Autonomous). This event focuses on creating a platform for the students to showcase their creativity and to bring their academic knowledge into application. The event presented an avenue for students to showcase their skills and creativity providing an opportunity for students to grow and develop their talents and bring out their best flair in the field of their choice.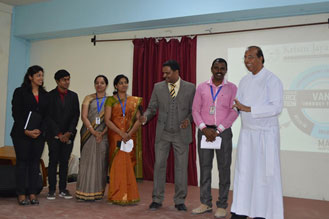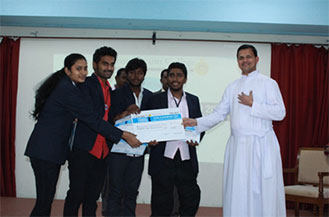 Vanijya Darpan 2012, an intra collegiate commerce exhibition was conducted on 24 July 2012. Rev. Fr. Sebastian T.A, Principal, Kristu Jayanti College, Bangalore inaugurated the exhibition at 9.00 AM. Students were divided into groups and each group was given a topic based on value, commerce and industry. 32 teams exhibited their innovative, descriptive, creative output in the form of different models and reports.
The top three models were given a cash prizes of Rs. 3000, Rs. 2000 and Rs. 1000 respectively.