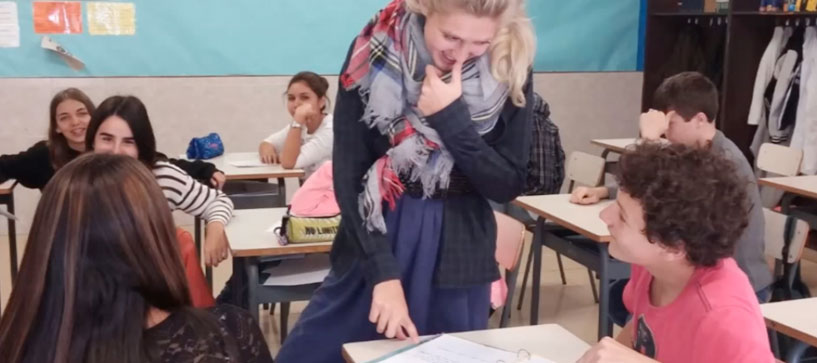 Frequently Asked Questions (FAQ)
1. What is a language teaching assistant?
A language teaching assistant is an English speaker, with an advanced English level proficiency who supports students to develop language skills and understand other cultures. With up-to-date knowledge of their local culture and language, they can also help revitalise the skills of language teachers.
These are some of the tasks, language teaching assistants do:
1. Working with their own small groups to introduce basic language skills, improve linguistic ability, with focus on oral skills.
2. Helping to prepare pupils for oral examinations and listening comprehension assessments.
3. Contributing to cross-curricular work in collaboration with other subject areas e.g. engaging and relevant language-based projects.
4. Developing lesson plans and extra-curricular activities (e.g. lunch time clubs) focussed on their country's culture, suited to particular age-groups.
5. Supporting the creation and/or development of international project.
6. Developing any kind of activity using English as a vehicle of communication. Eg: Sports, dance, cultural workshops, etc.
2. I don't know Spanish, can I still apply?
Yes, you can apply. Knowing the local language is not a requirement. Most of the schools will provide you Spanish classes too.
3. Could teaching English overseas benefit my career if I don't want to work as a teacher in future?
Yes, absolutely. Becoming a language teaching assistant abroad is a unique opportunity to learn a foreign language, living in another country while teaching English 15-20h/week, earn enough money for one to pay his/her bills in Europe and still have spare time to be combined it with some other activities like College, sports, friends, etc.
Additionally, teaching provides a full set skills transferable to any career field, such as leadership, public speaking, creativity, efficient communication, behaviour management and organization.
4. Do I need to pay any fee to participate in this program if I get selected?
No, selected candidates will not need to pay any fees to participate in the program. However, they will need to cover their flights and visa.
5. Which are the requirements to apply for the programme, stipend offered, duration of stay, dates of application, etc?
Any student is eligible to apply as soon as he/she has an advanced English language proficiency equivalent to a C1 in the European language framework.
Students from all academic fields of studies are welcome to apply. We are seeking for enthusiastic candidates who are passionate about Education, enjoy teaching and have adaptability skills to be fully immerse in a different culture.
Each offer will have different features. You can check all current vacancies here: You can apply for all positions of your interest by creating a profile here as language assistant.
6. What is the selection process?
The selection process works as follows:
1. Candidates register in the portal www.erasmusinschool.com
2. Candidates contact recruiters through "Erasmus In School" portal and send their CV.
3. Candidates get an interview via Skype. Selected candidates will be notified and hiring and visa process will get started.