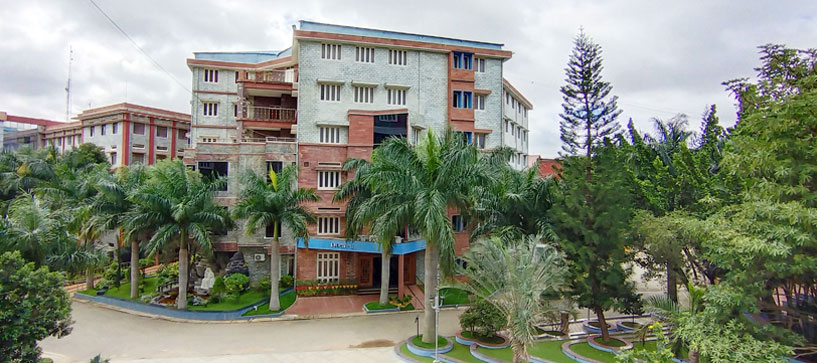 Institutional Green Committee
The Institutional Green committee was established in the college with a proactive attitude towards conservation of the environment and objective of generating awareness and promoting environmental care at both individual and community level. The committee aims to create a permeating atmosphere facilitating conversation, action and feedback on environmental issues engaging faculty, students and the general public. The institution looks at the macro-environmental perspective in the college and the society and envisions nurturing the environment with a greener future.
Objectives
Understanding various environmental issues and the need to address them.
Sensitizing people about the need for protection of environment for a sustainable and healthy future.
Instill a sense of responsibility for the environment and a personal commitment to protect and preserve the environment
Undertaking technological setup aimed at an environmentally and economically strong impact.
Ensure environment friendly practices in the college.
Composition
With the conviction that environment is the responsibility of every individual in the institution, the committee comprise all constituents of the College- Teaching, Non-Teaching and Students.
i. Principal- Rev. Fr. Dr. Augustine George
ii. Financial Administrator- Rev. Fr. Lijo P Thomas
iii. Director-Infrastructure Development- Rev. Fr. Som Zacharias
iv. Dean of Sciences- Dr. Calistus Jude
v. Dean of Commerce & Management- Dr. Aloysius Edward
vi. Dean of Humanities- Dr. Gopakumar
vii. Coordinator- Mrs. Priya Josson
viii. Members: Dr. Sangeetha Menon, Dr. Arunkumar, Dr. Hanumanthappa B.N.
ix. External member (Industry Nominee)- Ms. P Bineesha
x. Student Coordinators: Ms. Anupriya- B.Sc. MBG, Mr. Nitin Paul - B.Sc. BBG
Awards
GREEN CAMPUS CERTIFICATION WITH GOLD RATING
Kristu Jayanti College, Autonomous has successfully been rated as a Green Campus and secured the 'GOLD RATING' as per the certification criteria. Green campus is an initiative of AICTE in collaboration with International Institute of Waste Management (IIWM) who assesses and audits for certification. IIWM is affiliated to Scientific and Industrial Research Organization (SIRO), Ministry of Science and Technology, The Central Pollution Control Board (CPCB) and Several State Pollution Control Boards. The Citation and Certificate was handed over by Dr. Ramesh U, Director of Approval Bureau and Parliament Cell, All India Council for Technical Education (AICTE) on Nov 26, 2019 at Kristu Jayanti College, Bengaluru. The college takes pride in being one of the pioneers in obtaining this certification and setting an example to other institutions under this category. Gold Rating of Kristu Jayanti College as being a Green Campus is a great tribute to Mahatma Gandhi on his 150th birth anniversary. Ms. Bineesha P, Executive Director of IIWM highlighted on the very good percentage of green cover area, execution of green policies, involvement of the management, staff and students in the green practices, presence of large number of indigenous trees and more than 80 species of medicinal plants, student research projects using medicinal plants, water conservation by rain water harvesting, usage of renewable source of energy like solar energy and water recycling in Kristu Jayanti College.
Fr. Josekutty, Principal, receving the certificate from Shri. Unnikrishnan, Advisory, AICTE
CLICK HERE FOR VIDEO ON "GREEN CAMPUS INITIATIVES"