UBA- Campaign on Promoting the usage of Jute bags for waste disposal
In connection with UBA activity, an awareness campaign was conducted about the usage of jute bags for waste disposal in various villages like Kannamangala, Purushanahalli, Nagenahalli, Genjanahalli, Vadagere, Badhrapura on 9/10/19 at 8.30am. The main objective of this activity was to create awareness among people on the hazards of using plastic bags and to motivate them towards the use of fabric (cotton or jute) bags. In this regard, our NSS volunteers distributed jute bags to the village and encouraged them to use those bags for waste disposal. This programme benefitted about 850 families.
---
Plastic free Life Campaign
Plastic free Life Campaign was carried out on 4th October 2019, at 12.00 noon in K. Narayanapura Cross. About 30 volunteers participated in this campaign and about 150 households were benefitted. The students prepared various posters showcasing different issues pertaining to plastic usage. Utilising these posters, our NSS volunteers addressed the public pointing out the hazards about plastic usage. They also emphasized the use of cotton or jute bags.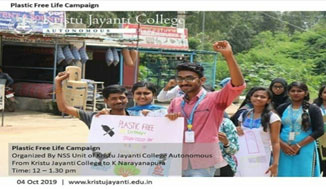 ---
Visit to old age home
As a part of social activity, our NSS volunteers visited various NGO's- Holy Cross Institute, Preethi Nivas Trust and Mercy Home on 2nd October 2019 at 10.30 am. About 15 volunteers spent their time with the senior citizens. Students interacted with them individually where the students understood about their lives. The sister In charge of the home spoke to our volunteers and also narrated about the situation of the old people.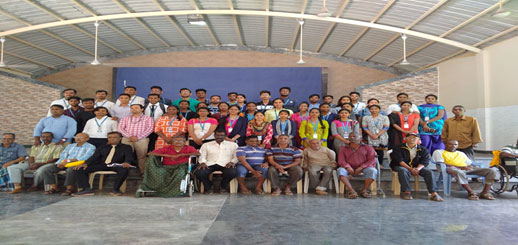 ---
Awareness session on Waste Disposal
As a part of social activity, our NSS volunteers visited Cratis Hospital on 2nd October 2019 to learn about the disposal of toxic medical waste from the hospital. The students addressed various queries to the staff in the hospital through which they gained complete information about the mediwaste disposal.
---
UBA- Baseline Household Survey in Adopted villages
Our college students conducted a survey in various adopted villages like Kannamangala, Purushanahalli, Nagenahalli, Genjanahalli, Vadagere, Badhrapura on 16/7/2019 at 9.00 am. A survey form was used to collect various details from the villagers like respondent details, their household infromation, their status of migration, awareness about various government schemes that would benefit them, availability and accessibility of resources and problems they are facing. Social mapping was also carried out where the volunteers figured out the various resources avaliable to the village residents and also made it available for the villagers to have a glance at it.Apart from these activities, our students prepared a case depicting the demographic factors of the villagers.
---
Rural Community Development & Field Practice
Rural community development programme was conducted in V.Nagenahalli on 14thSeptember, 2019 at 10.00 am. About 30 NSS volunteers took active involvement in this programme and about 150 houses sought benefit from this programme.
Objective of the programme:
• To observe the village and recognize their problems.
• To study about the village using participatory Rural Appraisal Method for Rural Community Development.
• To share study information to the community people.
The programme commenced with an orientation session on Rural Community Development & Importance of Field work to the students. The students were explained about the basic concepts of PRA which included Watch, Listen, Learn, Establishing rapport, Map and Facilitation.
The students were given exposure to Participatory Rural Appraisal practice which would enable the students understand the rural condition and make them understand on the Rural Community Development.
The students have been grouped into 4 teams and assigned to do a study the community people and their status. The students were asked to do the assignments in the following areas-
1. Transact walk – Observation of the resources and facilities, which are available in the village.
2. Social mapping – Drawing the village map with road, Street lights, houses etc. in the center of the village with people participation.
3. Problem tree–Observation of the village – Discussion of Core Problem of the village & Its causes and effects.
4. Case study–Case study about one household`s income, lifestyle and everything about the family.
---
Dengue awareness Campaign
Dengue awareness Campaign was carried out on 17/08/2019 at 2pm. The NSS volunteers formed different groups and the groups were directed to various places like K.Narayanapura, Kothanur and Geddalahalli. The students carried various posters & banners and created awareness about dengue infection, its causes and symptoms. The public was also educated about the remedial measures to prevent it.
---
Repairing potholes
Potholes repair work was carried out on 17/8/19 at 2.00 pm. In connection with Swachh Bharat Abhiyan, the NSS volunteers took an initiative of closing the potholes on the roads towards Narayanapura cross.
Initiative to create litter free campus and environment
Three activities were carried out by NSS student volunteers on 24/8/19 at 2.00 pm.
• Creating litter free campus
• Creating litter free environment
• Repairing of potholes from our campus towards
About 600 volunteers grouped into three, made an effective contribution towards the various targeted activities thereby exhibiting their self-responsibility towards the societal requirements.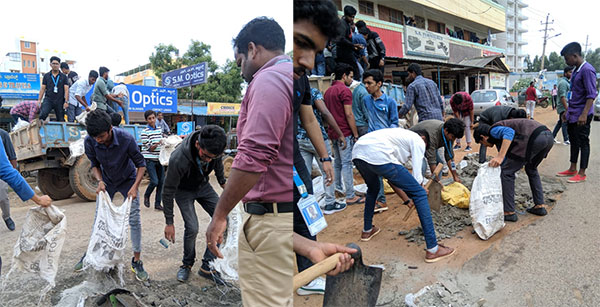 ---
A Rally to avoid Narcotics usage
Kristu Jayanti College NSS volunteers in collaboration with Indian Narcotics Department conducted a rally on 26th June 2019 at 8.00 am inorder to create an awareness for the youth with regards to consumption of drugs. The rally took place from started from Reva University to BSF ground (Yelahanka) covering around 8kms approximately and it was headed by Army officials and local police. Posters and banners were projected to the public regarding consumption of drugs, the effects of the drugs over the long run of life, and the remedial measures of overcoming it. The rally was informative to the public. During the Valedictory session on BSF ground, the chief guest G N Chinnappa (Official from Bangalore city civil court 303) stated about the youth's exploitation by drugs and its impact on increase in crime rate. He also stated that youths should be properly educated and these kinds of rallies would actually serve that purpose.
---
Environment Day Celebration
All volunteers from various clubs and associations like CSA, NCC, Environmental Club in collaboration with Alumni Association and K. Narayanapura government school, celebrated Environmental day on 15th June 2019 in a veterinary hospital, K. Narayanapura. More than 30 participants took active part in this activity. The program was inaugurated by Rev Fr. Josekutty P D ,The principal of Kristu Jayanti College along with Mrs.Hemalata, The Head Mistress of K Narayanapura government school by planting the sapling. Mrs.Hemalata motivated the students to plant more sapling inorder to create a green filled surrounding and to extend a concern for protecting the environment.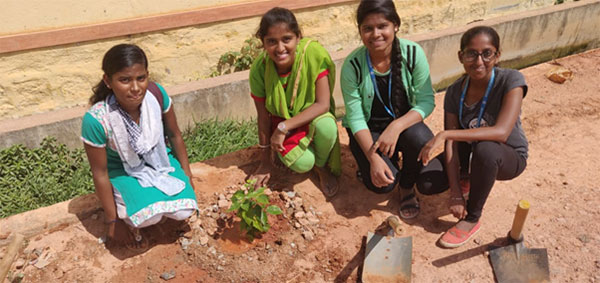 ---
A clean campus drive
A clean campus drive was carried out on 29th June 2019, at 2.00 pm. The students were divided into many groups and they were directed towards various neighbourhood areas of our college. The main objective of this initiative is to ensure a clean environment around us.