Photography Club
Photography Club
The objective of the photography club is to provide a platform for the interested students to share and exhibit their creativity, knowledge and passion for photography. The club conducts regular exhibitions, workshops and guest lectures to enhance aesthetic and critical skills in photography.
---
World Photography Day
The Photography club in collaboration with the department of Journalism and Mass Communication of Kristu Jayanti College organised a Photography Exhibition on August 19, 2019. The exhibition was conducted to commemorate the World Photography Day. Ms. Anjali Lakra, a freelancer and established portrait photographer inaugurated the photography exhibition.
The exhibit displayed more than forty award winning photographs from both acclaimed national and international photographers. Starting from the works of first Indian woman photographer, Homai Vyaravalla to contemporary artists such as Raghu Rai was proudly exhibited. Works belonging to different genres such as wild life, macro photography, landscapes, portraits, war photography were showcased. A special section was dedicated to the photographs of Pulitzer 2019 awardees Lorenzo Tugnoli and Reuters and natural calamities that has affected the Indian states in the recent months.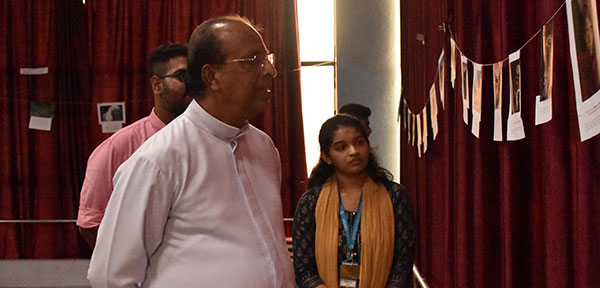 ---
Kristu Jayanti College Photography Club organised the eight edition of LUMOS- Annual Photo Exhibition on February 6,2019. The exhibition was inaugurated by Rev. Fr. Augustine George, Vice Principal, Kristu Jayanti College. The event exhibited around 400 photographs captured by student photographers of themes ranging from wild life to abstract photography.