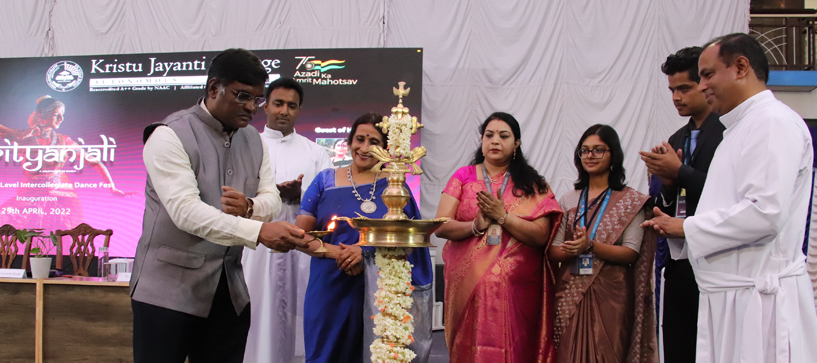 Nrityanjali
Dance is an expression of emotion and passion. It encompasses movements that tell its own story that cannot be captured by mere words. Nrityanjali is a celebration and tribute to the exhilarating art of dance. Every year, this national level inter-collegiate Dance fest receives enthusiastic participation from colleges in Bangalore and from surrounding states. It is conducted during the even semester of the academic year and consists of a day-long program to showcase different forms and styles of dance.
Celebrating diversity through an array of dances, every performance presented on that day is an ode to this divine form of human expression, breaking language barriers and uniting lovers of the art. The fest is honoured with the presence of eminent judges and experts who stage their shows across the globe. The success of Nrityanjali is attributed to its role in promoting both contemporary and traditional forms of dancing.
---
Name of the Event: Nrityanjali
Date: 22/02/2019
No. of Participants: 149
Kristu Jayanti College Autonomous Bengaluru organized a National level inter-collegiate dance festival "Nrityanjali 2019" on 22nd February, 2019. Nrityanjali is a National, inter-collegiate dance competition that serves as a platform for enhancing aesthetic talent. Ms. Usha Kini, Head of Programmes Doordarshan Kendra Bengaluru was the chief guest. "I'm surprised to see the level of enthusiasm in each and every student of Kristu Jayanti. I'm happy to know that classical and folk dance is being promoted through this fest", said Ms. Usha Kini in her inaugural speech. Ms. Usha extended an invitation to the participants to be a part of a dance reality show 'Dance Samara Season 2' which is a part of a Doordarshan production. Fr. Sebastian Elanjikal, Provincial, CMI Kottayam Province, in his presidential address emphasized the importance of Dance in the wellbeing of an individual. Other members on the dais during the inauguration ceremony were Rev. Fr. Josekutty PD, Principal of Kristu Jayanti College, Rev. Fr. Augustine George, Vice Principal of Kristu Jayanti College, Dr. Calistus Jude, Staff Coordinator of Literary and Cultural Association, Mrs. Susan Sanny, Staff Coordinator of Nrityanjali, Ms. Nisha Rebecca Eapen and Mr. Rony Rajan – Student Co-ordinators, Literary and Cultural Association.
The National level dance competition consisted of 9 categories of performances- Duet dance- which saw a participation by 11 teams, Eastern solo dance with 10 participants, Folk/Tribal dance with participation by 1 team, Eastern group dance which saw participation by 5 teams, Classical solo dance in which 5 participants competed, Western group dance in which 8 teams participated, Western solo dance in which 11 participants competed against one another and Adaptune with 8 participants. However, there were no contestants for Theme dance.
Participants from all over the city and state participated in this dance competition. A total of 149 performers from 33 different colleges participated in Nrityanjali this year. Dance exponents of the city were invited as jury members to judge each dance category The valedictory ceremony was presided over by Fr. Josekutty, Principal while Fr. Emmanuel P.J., Director – Jayantian Extension Services gave away the prizes. The overall winners of Nrityanjali were St. Joseph's College of Commerce, Bangalore and Runners up were St. Claret College, Bangalore. All the winners in various categories of events were awarded certificates and cash awards.
One of the main highlights of the event was the invitation by the chief guest, Ms. Usha Kini to all the participants to be a part of a dance reality show Dance Samara Season 2 which is a part of Doordarshan.