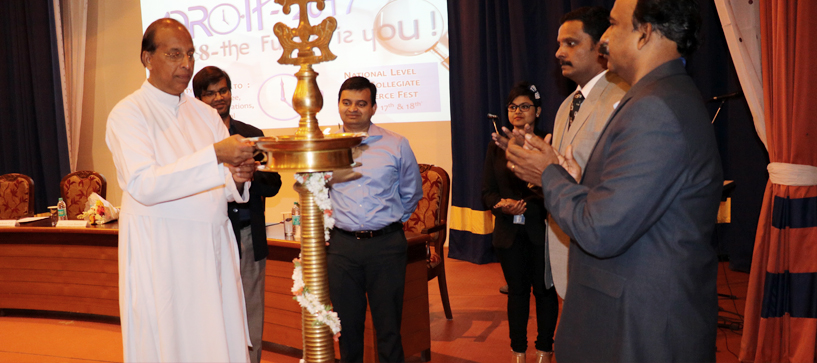 Commerce club
Kristu Jayanti College, firmly believes in producing well rounded personalities. Numerous skills and talents have been unearthed amongst our students and to allow these talents to flourish, numerous clubs, associations and cells have been started for likeminded individuals to meet and polish their skills.
In order to meet the challenging needs of corporate world environment, it is not just sufficient for a student of commerce to be sound theoretically but must also be exposed to the outer world in a dynamic way to face practical situation. Hence, the department not only concentrates on the academic excellence of its students but also nurtures their co-curricular activities to stand with the vision of exploring new horizons together with collective wisdom.
Commerce club was initiated from 2002 to enrich and empower the students with academic and technical excellence. Commerce Club plays a parent's role in molding and shaping future of individuals of the club to be more ethical and socially responsible citizens of the nation at large and an unique process where the super seniors of the department train, develop and enhance the opportunity to learn from each other.
OBJECTIVES:
* To expose students to meet the practical challenges in the current business scenario.
* To let the students interact with business experts of industry.
* To encourage students to become event managers.
* To build self-confidence and proactive approach.
* To increase financial literacy among students.
* To create entrepreneurs.
Activities of Commerce Club
* EXCELSIOR
* ADROIT
* VANIJYADARPAN
Faculty Coordinators
Mr. Shashi Kumar.M
Ms. Glady Agnes L
Ms. Vineetha Vijiyan
Mr. Santosh V
Student Coordinators
Mr. Robin Roy (Final year B.Com E)
Ms. Sneha Sebastian.( Final year B.Com ACCA)
Mr. Joel B Shaji(Final year B.Com Professional)
Ms. Anusha Binu Kalathil (Final year B.Com A)