Library Info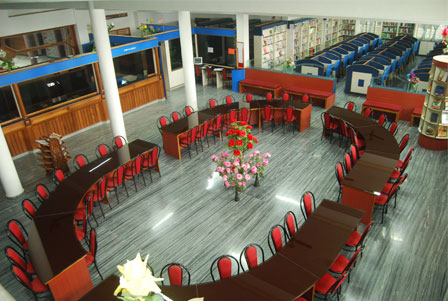 The Library
The College Library is a gateway to a world of information. The staff and students have unlimited access to a wealth of Information found in resources like books, magazines, Journals, statistics, encyclopedias, annual reports and the Internet. In addition, the library offers spacious seating arrangements and a calm ambience for learning.
Opening Hours
The Library is available for the use of all members of Kristu Jayanti College. Its working hours are are 8.30am to 7.00pm Monday to Friday and 8:30am to 4.00pm Saturday.
Facilities
The KJC Library allows access to printed resources such as books, Journals and Magazines as well as Electronic Journals for the use of faculty and students at Kristu Jayanti College.
* Automated library enables easy accessibility and optimum usage.
* Reading room, discussion room and self-study cubicles exclusively for faculty and students
* OPAC facility is installed for easy search
* Wireless router is installed to facilitate internet usage and laptop connectivity
* Reprographic facility
* Display of newspaper clippings on current topics and career / employment
* Book bank facility for economically backward students
* Notice board for information display and notification
* Continuous power backup facility
* Competitive exam material
* Mass subscription of dailies / journals for students
Collection Development
Books from vendors on approval will be available in the library from time to time.Faculties are encouraged to purchase the Titles in display and make recommendations. Recommendation forms are available at the library. Selected new books will be a displayed and are reserve for a period of two weeks before being available for general circulation.
Any student may recommend new books & Journal Subscription. The Library Committee will decide based on the input from faculty and the academic need.
Circulation of Materials
Students may borrow books or Journals during working hours at the library Circulation Counter. A Student may borrow a maximum of three books, two Journals & two CD's to their name. The books are issued for Students maximum Ten days & for faculty maximum ten books for one month and then they may be renewed if no reservations on the items indicated. Journals and CD's may be issued for maximum three days for students and one week for faculty.
Books & Journals placed on reserve by the library staff, are not issued out.
The Library materials in certain advertised categories may not be issued without special permission:
* Un Bound Parts/Current Issues of Journals
* Encyclopedias
* Dictionaries
* Reference Books
* Project Reports
Fine will be charged on late return of books, periodicals and CD's.
Books and Periodicals borrowed from the library cannot be taken outstation unless special permission is given. Students should deposit their borrowed materials in the library before they go on leave.
Newly Arrived Journals/ Magazines & Newspapers Newly arrived Books and Periodicals cannot be issued out of the Library before a specified period.
Total Number of Books: 46179+
Project Reports: 2700+
Bound Volumes: 2214+
Periodicals: 276
National: 188 International: 88
Newspapers : 12
Databases : 07
CDs / DVDs : 2,678+
And Non-Book, Audio Cassettes & Maps.