Faculty Development Programme on Corpus-Assisted Discourse Analysis
The Department of Media Studies (PG), Kristu Jayanti College (Autonomous), Bengaluru, organized one-day Faculty Development Programme (FDP) on Corpus-Assisted Discourse Analysis for the faculty members of department of Media Studies and English on 21 September 2020, with the support of college management team. The objective of conducting the FDP was to understand the applications of discourse analysis in communication research and to fill the gap of the practical aspects of conducting discourse analysis.
Dr. Natalia Knoblock, Associate Professor of English at Saginaw Valley State University, Michigan, USA, was the resource person of the FDP. More than 40 participants, including internal faculty members and faculty members from other universities attended the programme.
Dr. Knoblock covered a wide range of the fundamental concepts of discourse analysis, critical discourse analysis and practical aspects of the research methods. She started the session with a question on how to use discourse analysis as a critique of social life. "Communication scholars can study all forms of communication- spoken and written text to understand power, dominance, inequality and biases that exist in our society,' said Dr. Natalia Knoblock.
She added, 'We, as academics, need to write research papers and talk about it (societal issue)'.
During the session, Dr. Knoblock's presentation of her research findings on xenophobia in online communication, one among her research interests, drew much attention of the participants. She also shared a number of useful internet resources such as Sketch Engine and Ant Conc to conduct computational corpus-assisted discourse analysis.
The programme included resource person's presentation of theories and concepts of discourse analysis and discussion on corpus-assisted discourse analysis. It concluded with an interactive question and answer session. During the Q & A session, one of the participant expressed her view as 'a very insightful session'. Feedback of the participants was collected at the end of the programme using Google Feedback Form.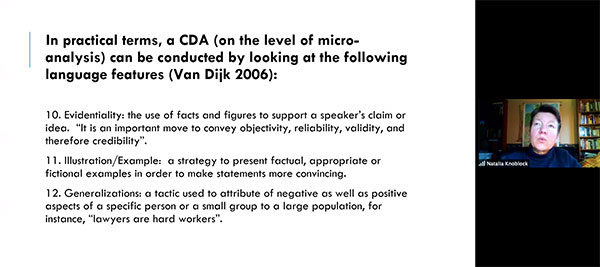 ---
The Department of Journalism and Mass Communication (PG) organized Five days online Faculty Development Program on various topics.
Session 1. Shri. Rajesh Padmar, Social Activist Bangalore spoke on different platforms and ethical issues involved in social media. He spoke on how one should be ethical while forwarding the messages that comes through phone via Whatsapp, Facebook, Twitter and other platforms. He also mentioned that one should go through the news and check for its credibility through sources and verify if it is fake news or authentic and also pointed out about the fake accounts and its importance to know about the authentic accounts.
Session 2: Ms. Anita Rathnam, Executive Director, Samvada gave an enriching talk on how one should understand the classroom and youth – hood and its importance in the present scenario. She mentioned that it is of great need to understand the diversified classroom and demonstrating equity and inclusion while teaching a set of students. Further, she explicated how a teacher should deal with complexity of youth – hood to attain their interest on the subject and studies as a whole.
Session 3: Dr. Anil Pinto, Registrar, Christ University enhanced the participants knowledge on the various possibilities in Media research and its importance. Mr. Pinto mentioned that there is a greater need of multi-disciplinary researches to have a greater and deeper understanding of the subject.
Session 4: Dr. Mercy Pushpalatha, former Principal indeed delivered an excellent talk on how to develop an effective curriculum. She mentioned that teachers are now not just teacher but then facilitators who facilitates the need of the students for their holistic development. She critically evaluated and explained the elements of an effective curriculum. She mentioned that a curriculum must be based on learning outcomes, it should be constructive and operational in nature.
Session 5: Fr. Stanley, President, Signis, India certainly delivered an interesting talk on Newsroom debates pros and cons. He gave a very detailed picture on early stages of newsroom and how it geared up after the invention of Television in the world. He gave wide range of understanding on how newsroom debates are influencing people in setting up a stand on various issues. He mentioned that today's news room debates are more emotional play, with personal bias.

---
Faculty Development Programme on Media and Journalism
The Department of Journalism and Mass Communication of Kristu Jayanti College organised a five-day FDP programme for media academicians from May 12-16, 2020. The programme was designed to provide insight and train teachers about the trends in media education and media profession.
The five-day session included five experts detailing various aspects of media education today. Shri. Rajesh Padmar, social activities spoke about Social Media and Ethics on the first. He spoke about various tools to verify and counter misleading information on social media platforms.
The following sessions by Ms Anita Ratnam, ED, Samvada focused on understanding classroom and youthhood. Her talk focused on various means to engage youth and be empathetic towards them. Dr Anil Pinto, Registrar, Christ (Deemed to be) University spoke about 'Research as the social responsibility of media academicians'. His session focused on different challenges in media research. A session on Effective Curriculum development for media Studies was taken by Dr Mercy Pushpalatha, Former Principal, Lady Doak College. The last session was taken by Fr Stanley, President, Signis. He explained in detail about the history of Indian Newsroom debates and its pros and cons.
Academicians and Media experts shared their expertise with the audience. The five-day online FDP had more than 200 participants from different parts of the country. The programme enriched and updated media academicians and Scholars about trends and changes in the media field and journalism education.