Gems Of Karnataka – Makers Of Modern Karnataka
Interactive lecture series celebrating the "Gems Of Karnataka – Makers Of Modern Karnataka" was organised by the Department of History, Kristu Jayanti College on July 22nd 2019. The narrative of achievements of Maharaja Krishnaraja Wodeyar IV and Bharat Ratna Shri Visveshwarya the true visionary leaders who established the best governed state of the world in the 20th century at Mysore silenced the voices of colonial supporters who believed that modernisation of India truly begun and probably succeeded due to British rule. The series commenced with the blessings of Rev Fr Josekutty P.D, Principal, Kristu Jayanti College and the address was delivered by Dr. Vithal Potdar from Mythic Society, Bengaluru in an enchanting manner to spellbound audience of History students and faculty members of various departments. Mahatma Gandhi called the Maharaja Krishnaraja Wodeyar IV as 'Rajarshi' and his kingdom as 'Rama Rajya' is truly considered as the 'Golden Age' of Modern Mysore. Bengaluru becoming the first city with electric street lamps, establishment of Indian Institute of Science with the donation of 371 acres of land, creation of legislative council in 1907 voluntarily to promote democratic governance, introduction of compulsory primary education through1913 Regulation and favourable social legislations for the upliftment of women and backward classes are just few indicators of the sustainable progress and holistic growth made by Mysore during their period. The speaker quoted from 'The Great Britain and the East' paper published from London in March 1939 edition had addressed the Mysore State as 'Buckingham of India' due to its overall progress in many spheres.
Bharat Ratna Shri Visveshwarya guidance on how to face the raising challenges remains true and stand the test of time , 'Education is the sovereign remedy for all economic ills'…'The way to build a better nation is to build better individuals'… 'Education shall be so diffused that there may not be a village with an ignorant family nor a family with an ignorant member'. The programme was organised by Prof Ramya.B, Head, Department of History and Prof. Hemango Akshay Hiwali, faculty, Department of History.
---
Numismatics as a Source of History
Date: July 4, 2019
Classes Attended & Number of beneficiaries: I BA HEP & HTJ. 77 nos
Name and details of the Resource Person: Mr. Gautam Jantakal, Numismatics Consultant, Centre for Numismatics Studies, Bengaluru
Objective:
1. To enhance student's understanding of Numismatics as an integral source of History
2. To cultivate interest and appreciation in the study, collection and preservation of coins.
The Department of History organized a guest lecture on Numismatics as a source of History to First year UG students to develop curiosity and understanding of learning history through authentic archaeological sources. Mr. Gautam Jantakal, an expert numismatist provided an opportunity for student to see, touch and learn about old coinage practices that existed in India and gave a wonderful outline about the significance of coins to understand the glorious past of India. He elaborated to them the various degrees of information, a numismatist can extract from a coin about the past and how it helps historians in reconstructing a particular period. A strong motive was also to introduce students to an emerging and unique career path of being a numismatist and to arouse in all a passion for the field of studies. Students actively involved in the session by asking multiple questions and getting clarification on their doubts regarding numismatics.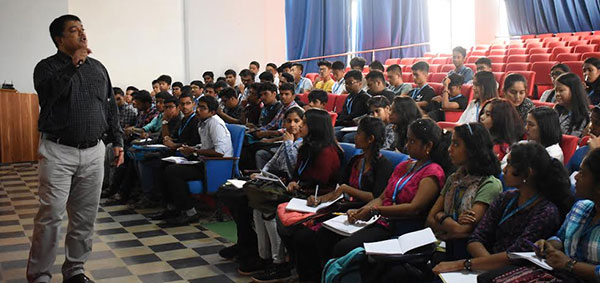 ---
Unique Aspects of Indian Art
Date: 21/01/19 | Time: 01:30- 03.30 pm
Number of beneficiaries: 95 students and 3 faculty members
Resource Person: Dr. Jaya Jose, Art Historian & Research Fellow, National Institute of Advanced Studies, IISc Campus, Bengaluru
Objectives:
1. To create awareness on Ancient Indian Art
2. To appreciate the significance of Art Indian History
3. To encourage the budding artist in the college
The guest lecture started with a formal welcome speech by Ms Sandhya, a second semester student of HTJ. Over a span of two hours, the resource person covered the various aspects of Ancient Indian Art forms. The lecture narrated the uniqueness and the salient features of Early Indian art forms.
Dr. Jaya also pointed out the rediscovering of the exquisiteness of this art form during the colonial regime in India which helped in the process of fostering nationalism among the people. Focusing on the multicultural essence of Indian art form, Dr Jose argued how numerous foreign inspirations, such as that of the Greeks and Romans, have influenced and inspired the indigenous art form. She also viewed and portrayed the Indian art form as an evolving and not stagnant entity.
Students of second semester HEP and HTJ and fourth semester CBCS students of Indian Cultural Heritage from various courses, such as B.Com, B.Com Prof, B.Com ACCA, BBA, B.Com Tourism and B.Sc Biotechnology attended the lecture. The lecture ended with Assistant Professor Hemango Akshay Hiwale offering the vote of thanks.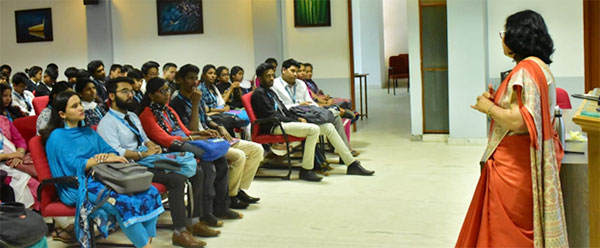 ---