"Sustainable development is the pathway to the future we want for all. It offers a framework to generate economic growth, achieve social justice, exercise environmental stewardship and strengthen governance" Ban Ki-moon.
The department of management inaugurated Social Responsibility Week 2020 on 06/01/2019 January at 3.00 pm in Mini auditorium I (Administrative Block). The theme for the week was "Sustainable Development Goals". The chief guest for the day was Dr Dinesh S Dave Professor and head of the department of computer information system, supply chain management John Walker College North Carolina USA, Miss Sashmeeta Mulmi director strategies engagement of international justice mission, Mr Santhosh Abraham Vice President of NASSCOM. The inauguration begin with Prof. Haribaskar with prelude and he explained the 2030 agenda of UN in sustainability development and how important it is for students to contribute towards the social development. This was followed by Rev. Dr. Fr. Augustine George, the Vice Principal addressing the gathering. In his address, he stated that social responsibility is the outcome of individual responsibility and a minor change will also result in real change. He also mentioned about the college being the Universal hub for United Nations sustainable development goals (UNSDG). Rev. Dr. Augustine George handed over the session to the esteemed chief guest, Dr. Dinesh S Dave Professor and head of the department of computer information system, supply chain management John Walker College North Carolina USA. Who presented various examples of steps taken by various industries and the students in USA towards the sustainability development goal. He made students realize that sustaiablility development and profit making in business can go hand in hand. Then the address was followed by our two Guest of honor Miss Sashmeeta Mulmi director strategies engagement of international justice mission and Mr Santhosh Abraham vice president of NASSCOM, Miss Sashmeeta shared her experience in various rescue mission she was part of in human trafficking and underage commercial sexual exploitation and how they were able to collaborate with government of Karnataka to ensure the end of human trafficking and also to provide decent working conditions and Mr. Santhosh Abraham presented a detailed power point on Company social responsibility with detailed financial figures and comparison of funds over past 5-6 years. He further explained and stressed how technology helps in the sustainability development and to solve various social issues and concluded by encouraging the students to take full advantage of CSR week and the opportunities. The inauguration ended on a high note and served as a great start for the week. In Social Responsibility week there were five events such as: Social Revolution, Social Entrepreneur, Poster Making, Mime, Short Film Screening. 300 students were participated on various events. The first event was Social Revolution on 7th January 2020. In this event students identified a current social problem and came up with practical solution which enables them to think out of the box and contribute to society. On 8th January 2020 Social Entrepreneur and Poster Making was held. In this event students must identify and come up with business ideas that would carter to the needs of the society and support the sustainable development goals. The students must prepare a power point presentation in a team of 2. In Poster making students were given on the spot topic and they were asked to present their views with splash of colors, creativity and art.
On 9th January 2020 Mime event was held. The students were allowed to present various problems and solutions correlated to sustainability development goals in form of theatrical art where teams consisting of 8-10 members performed. On 10th January 2020 Short Film Screening event was held and students were given an opportunity to screen the social issues prevailing in the society.
The Valedictory Ceremony took place on 10th January 2020 at 4:00 pm in Mini Audi I in Admin Block. The Chief Guest was Dr. Alosiyus Edward, Dean of Commerce and Management Department followed by Prof. Surendranth Reddy, Head of Department of Management, Faculty Coordinators, Prof. Gincy Charles and Prof. Haribaskar and Student Coordinators, Ms. Anaswara and Mr.Vinod. Dr. Alosiyus addressed the gathering where he took turns and appreciated the Head of Management Department for their enthusiasm in conducting such a special week followed by Faculty Coordinators and Student Coordinators who facilitated all the events and ensured that there is maximum level of participation and eventually expressed his happiness to the audience who consisted of participants and students. He also quoted "The root of CSR is ISR" followed by highlighting the fact that humanity and existence without ISR is no humanity and existence. The winners and runners up of each event was then announced by Prof. Gincy and they were felicitated with certificates. The 'Best performing class' trophy was won by 2nd sem BBA 'D' section. The vote of thanks was then delivered by Mr. Vinod. The ceremony concluded with the Jayanthian anthem. Overall it was a memorable experience to count upon.
The Social Responsibility week was a fruitful one by serving its objective of creating awareness among students about the sustainable development goals and students showcased their enthusiasm in participation. It was an endeavoring week for the students.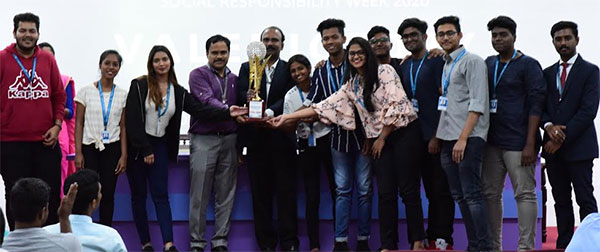 ---
Swachh Campus Drive
Department of Management organised an Extension Activities Swachh Campus Drive. The Theme of this Initiative is "Save Energy and Resources". It was held on 24th July, 2019 from 2pm to 3pm. Students were part of the extension activities committee volunteered for this initiative. The main motive of this initiative is to spread awareness about keeping the college campus and surroundings clean. The students made badges to create awareness and started this campaign on the right path by cleaning up dry waste and disposing it in the correct manner. It is the responsibility of every student to maintain cleanliness at all times and be environment friendly. Students reached out to every class and shed light on how everyone can contribute towards protecting the environment and resources. This campaign was a wonderful start towards conservation and cleanliness of our environment and similar activities will be organised for greater outcomes.